Tree that looks like a fence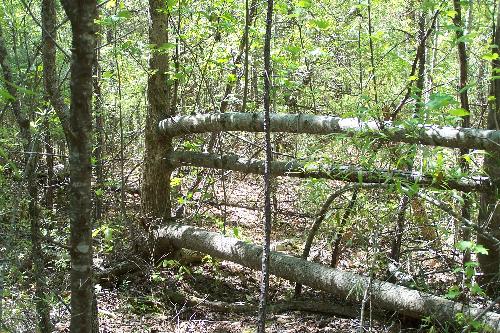 United States
October 14, 2008 1:20pm CST
We took this picture while hiking a trail in the Horseshoe Bend Military Park.At first we thought someone had made a fence, but on farther inspection we saw that it was natural. I've never saw a tree like this before. It really does look like a fence! What do you think?
8 responses

• United States
15 Oct 08
wow. thats really cool. i wonder if it was helped though. i have seen some trees that were helped along the path of creating figures or shapes. Great picture!! i do really like it!

• United States
15 Oct 08
i have seen trees in the shape of seats and things, and they were naturally formed by the heavy snow sitting on them for the winter.. anyway, its still cool reguardless!!


• Philippines
15 Oct 08
trees and plants have a kind of flexibility that is both disturbing and inspiring. left to their own devices they can wrap around objects and create strange works of unintentional art. properly pruned and cultivated they can be made into curious, compelling and useful shapes of all sorts. given time trees can grow around just about anything. historically, there are a number of legends, rumors and hoaxes regarding man-and-cow-eating trees. trees that consume people, animals or other objects have also featured prominently in various works of literary faction such as Little Shop of Horrors.

• United States
15 Oct 08
I've saw some of the pruned trees and they do look pretty cool. I believe they have shows where people prune trees and win prizes. Anyway, I've saw rabbits, and everything else made out of trees. Those are cool, but when nature does it, it's even better!

• United States
15 Oct 08
That tree is so incredible. Wish we could make a tree grow that way! That is so cool. I said it before, isn't it awesome what nature can do? Thanks for showing us this picture.

• United States
14 Oct 08
That is a very usual tree, it does look like a fence, thanks for sharing, it is good you took your camera, that is a picture worth a thousand words.

• United States
14 Oct 08
Now that was awesome looking. It is odd how trees grow in bizarre shapes etc isn't it? Thanks for sharing this here. HAPPY POSTINGS FROM GRANDPA BOB !!~

• United States
14 Oct 08
Wow! I've never seen anything like that! It does look like a fence! What a cool tree!

• United States
14 Oct 08
Now that's pretty weird/cool. Just goes to show that God has a pretty cool imagination.