What was the worst thing that your parents ever actualycaught you doing wrong?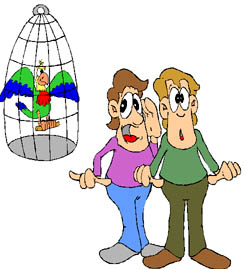 United States
October 15, 2008 11:37am CST
Did you get punished? What was the main punishment that your parents would give you? Did you get caught with your friends?How did that change how you acted in the future?Did you ever do it again?Do you think that your parents were too strict?Do you think that kids get by with more today?
3 responses

• Turkey
21 Oct 08
my regular punishment for anything i ever did was being grounded. i was not allowed to go out and play with my mates, then length of time i was grounded depended on what i had done wrong, but my mum could just look at me if i had done something terrible and i new to get out the room lol. my stepdad used to use physical punishment but i do not find this works when used on a regualr basis as the child just grows immune to it or i did, i new if i did something wrong with him, id get hit then nothing so in the end it never bothered me whereas my mum grounded me meant i couldnt go out and do what i wanted to do. i think the threat is worse than the actual ppunishment especially when it comes to getting a slapped bottom lol, i have two kids, the eldest is 9 and i havent slapped her bottom since she was 2. i use the 1,2,3 system stop what you're doing if they havent by 3 they get a slapped hand....and it works i never get past 1 with my eldest 2 with my youngest as she's not as soft lol but i dont think that parents were too strict at all. perhaps if parents still punished children for wrongdoings (and i know alot do) then we would not have as many problems in society as we do today, children are no longer afraid of authority as they are aware they cant really do anything, teachers cant punish, parents cant punish, police cant punish to a level that actually makes them regret what they have done, there is no longer a threat before the punishment there is no longer fear amongst youngsters. you look at alot of children and for the most part the worst behaved children are the children that are not close to their parents, and the parents are unaware of what they do, who they hand out with etc. outside of the family home.

• United States
21 Oct 08
I always hated being grounded. It was just the worst. You knew that your friends were out having a wonnderful time. It was effective punishment for me. I wanted to go ride my bike or be somewhere, skating or maybe the movies. My parents werent the type that you got by with much but I was thankful later in life for all their efforts.

• Turkey
22 Oct 08
yeah thats how i feel, i may my faults but i grew up respecting people (who deserved respect), being polite well mannered, knowing right from wrong and now i can use this as a way of discipling my children, knowing it causes no long lasting psychological effects, or problems and that every time you do it, it does make them have nothing except think about what they've done, and most of it i have to admit was stuff i did lol

• United States
27 Feb 09
Well, the worst thing my Dad ever caught me doing was when I was like 9 or 10 and I decided to help our neighbor and mowed their lawn...big designs all through it...how was I to know it was artificial grass??? My Dad gave me a spanking, I had to stay in my room for the rest of the evening and I wasn't allowed to mow the grass anymore. As for my Mom, it had to be when I ran away (I had problems at home) and came back 2 days later stinking drunk. Thankfully I was way too drunk to remember the butt whippin' I got for that. I do think kids get away with alot more these days and in fact it seems like alot of the times kids run things instead of the parents. My Dad was really strict but hard to talk to. My Mom was more easy going and I can talk to her about anything. [b]~~AT PEACE WITHIN~~ **STAND STRONG IN YOUR BELIEFS**[/b]

• United States
27 Feb 09



I think that it is so much harder because both parents are gone so much and all the divorces....There seem to be factors that are different now. Whippings and groundings were both what we got for disobeying and we still know dont speak to our parents with disrepect. What we were taught stayed with us, because we are old fashion .

• Ireland
16 Oct 08
The worse thing I ever did and I was caught for it was to skip school. Of course I would never have been caught except for the fact the my baby sister found out and she let the cat out of the bag. I expected to be murdered for it but my mum just got really cross which was just as bad. Yes, my parents were very strict but it was in our best interest. I definitely think kids get away with a lot more today and I think that is what is contributing to a lot of the violence we see on our streets.

• United States
16 Oct 08
I agree because as parents were home less and became less stricter, things got worse. When they stopped spanking and began to lighten up on punishment, things got more violent.Stopping spankings has not reduced violence! Thats another topic ofr my lot. I should ask others about this!