Different Subtle Bodies and Auras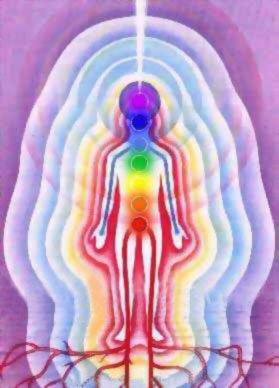 India
October 15, 2008 12:33pm CST
To understand the mechanics of physic self-defence, it is important that you have knowledge of the human aura. What is an Aura? An is an energy field that surrounds the body. according to ancient reachings, there are different types of auras depending on the different types of subtle bodies. 1. First, you have the physical body. 2. Next to the physical body is the energy body which is called the etheric or bioplasmic body.. The energy body interprenetrates and goes beyond the physical body. It is the medium used to vitalize or energise the physical body. It is the pattern for the physical body and has an Aura called the etheric Aura. 3. You also have an emotional or astral body. Its aura is known as the emotional or astral aura. When the physical body dies, the soul continues to live using the astral body. The astral body is more than the etheric body. 4. Next to the astral body is the mental body. It is the vehicle for the mind or the intellect. It is finer than the astral body and has an aura called the mental Aura. These are also other subtle bodies, but we will concentrate on these four bodies. Please share ur ideas and ur opinions on this discussion Thank You
2 responses

• India
15 Oct 08
You have given a nice description of human aura that surrounds the physical human body.I feel,energy contained in each of the aura layers is much more powerful than that of the physical body.How does one experience the existence and power of these subtle bodies? How do the subtle invisible bodies help in practical life? Do these subtle bodies have any practical relevance with the physical and mental wellbeing of a person? One needs to explore more deeply to understand the mystery underlying these non-physical subtle energy fields. As these are subtle and finer aspects of the gross body,one needs to raise one's consciousness to much higher level to experience and get benefits of these energy fields. thanks.

• India
15 Oct 08
All these things are im going to explain in my future discussion i have lot material regarding this, these auras and subtle bodies has greater influence in our Domestic and Office Life. I will reveal this material by means of discussions so please check out everyday in interest "science". or else add me as ur friend it will be much better to be in contact

• India
16 Oct 08
I am delighted to know that you have deeply researched in the subject of aura and subtle bodies.I will keenly look forward to know more about this subject from you in future. I have already added you as my friend. Further,I like to inform you that I have recently started a blog http://knowyourself.blog.co.in/ especially dedicated to the discussions on subjects relating to spiritual and divine aspects of life. I have started writing few articles to share with others. I sincerely welcome you to visit it and give your personal comments and advice/suggestions. Further,you are also welcome to post your views and concept on any related topics there. Thanks.

• Malaysia
16 Oct 08
hi prudvi, verynteresting i am not well werse in this topic , thanks for sharing cheers