have you heard of the black blizzard better know as the (dust bowl)?

United States
October 18, 2008 8:22pm CST
during 1930-1936 the people was face with something called the dust bowl it was a man made disaster caused by severve dought coupled with decades of extensive farming without crop rotation or other technigues tp prevent erosion.it was called death phenomonia thats when the lungs is filled with dust.it was simalar to the black lungss disease.difficult to breathclean air was impossible to find dust every where couldn,t grow food.this went on for 10 years.there was one boy who went to the doctor because he was coughing the doctor told him he was filled with dust in his lungs he died 2 days later.one baby coughed herself to death.and many more deaths form this dust bowl. how would you like to live in a town like this dust everywhere.
2 responses

• United States
19 Oct 08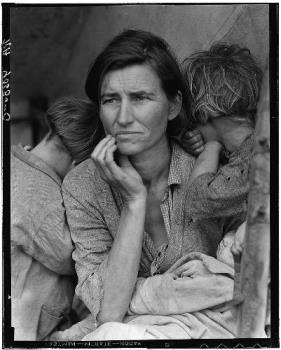 That was a very hard time (dirty thirties) for those who lived in the mid west, and this also happened around the depression so people were still suffering from that. People would have to cover their faces and seal up their houses since the dust was so bad. I've attached an image that you may have seen before of a migrant mother who lived out with the dust storms. You can just see how hard it was from her expression and her and from the body language they all give. This is a very famous image.

• United States
19 Oct 08
REally wouldnt want to . And if you look farther you will see that most of them did move out o the dust bowl and went to California. As they founnd out they just couldnt live there in all the dust. We havev to much construction here the dust hangs over the vally and you can see it when you have been of somewhere and come back in to the valley over the mountain and look at town you can hardly see it for the dust hanging there I remeber years and years ago coming over that mountain to see a nice little town in the distance all clear blus skies no dust what so ever .