My husband refuses to tell our 19 yr old daughter that he loves her.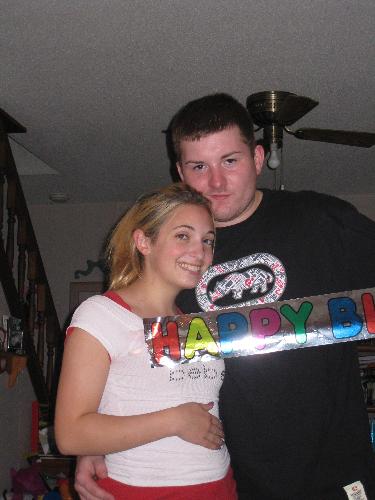 United States
October 21, 2008 4:07am CST
My husband was always very loving towards our children when they were small. As they grew older communication became strained but no one ever doubted his love for them. My most sensitive child moved out of our home and in with her boyfriend a year ago. I know it pained my husband to see her take this step. He did not think she was ready to be on her own. Since she moved out he has refused to tell her he loves her. I encouraged her to ask him about it and she summoned up the courage to do so. Each time she leaves our house she calls out "bye I love you". I always respond with "I love you too". My husband claims she never says it to him. I asked him why he refuses to say it to her and he changes the subject. This is hurting our daughter a great deal. When she suffers I suffer too. Lauren is one of the sweetest, most loving young girls I know. I wish he would open his eyes and see the harm he is doing to their relationship. Does he think by not responding to her she will give up and move back home? I am afraid the harm he is causing is irreparable. Eventually he may see the error of his ways but I think by them she will have given up any hope of salvaging the closeness they once shared.
5 responses

• Australia
21 Oct 08
This is very sad bostonterrio.

Male pride can be a very frustrating emotion that defies logic in so many instances but time does generally heal all wounds! It sounds like the foundation of their relationship was indeed strong before your daughter moved out so hopefully in due course things will get back on track. It can be very hard for a parent to accept that their child has grown up and especially when it comes to a Father and his Daughter! I am sure that if your Daughter persists she WILL eventually hear those three words she has been craving in return eventually.


• United States
25 Oct 08
your husband was hurt and was not ready to give up his little girl yet to some man. he sure does love your daughter and im sure your daughter knows it in her heart. give it time and your daughter and your husband will tell each other they love them

• Australia
22 Oct 08
my father also never says that he loves me... i never heard that word comes out from his mouth ever since i am a child until now... but he shows that he really loves me from his actions... and i can feel it... even though i want to hear it sometimes from his mouth, but i learn to accept it that he won't say that... for me, his actions are more than enough to show me that he loves me... take care and have a nice day...

• Malaysia
22 Oct 08
I know how it feels to be denied from love. I come from a family where only money can buy love. If I don't have money, don't ever dream of getting love. This is very true. It is very clear that my parents especially my mother chooses her daughter according to the amount of money she or he can bring home. She never appreciate any of my efforts and the love that I showed her. All she knows is money. In my life I am never close with my mother. If anything I would rather talk about it with my father. But with a father I can't confide everything, especially things related to women matters. So it is very difficult for me to talk my heart out, and I turned out to be cold to others and never trust anybody. Fortunately now I have a good husband who understands me to the whole extend. I am thanking God for everything that he had done for me. Because of this, I know that if your parents don't love us, God will still love us no matter what. I am very sad to hear about your daughter's condition. As I was reading your writings, I feel so sad and tears started trickling, no lies. The feeling of denied from love is so hurting and it will make your whole life meaningless. Just like what I feel now. So I think you must tell your husband to say he loves him. If not, find a way and if you have to, force him to tell it. You can say that if he doesn't love your daughter, you will not love him in return. You have to do this. If not, your daughter will lose her spirit to live and I am afraid she will get depression and no longer want to live.

• United States
22 Oct 08
Thats sad that he wont say I love you to his own daughter. Honestly i think it's just a phase. Eventually i think he will get over it. It however is surprising that he hasn't already. I mean what shes been on her own for a year now with the same guy? That should have at least proved to him so far that she is capable of being on her own and is in a stable relationship. I think he still coping with his daughter leaving "the nest".. It will pass in due time.