what to prepare for lunch and/or dinner...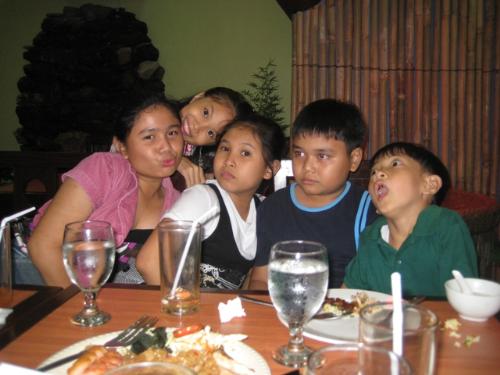 Philippines
October 21, 2008 6:39am CST
being a mom isnt easy. with our day to day living, there are times that i dont even know what to prepare for lunch and/or dinner. are there any suggested easy to prepare meals that the kids would love?
10 responses



• Philippines
11 Nov 08
actually i dont have kids of my own or my family, and preparing lunch or dinner is also a problem to me and mostly i eat outside cause im living alone cause our house is far from my work place, but mostly i cook for myself, mostly spaghetti and chicken,heheh, but kids loves it right,heheh

• Philippines
12 Nov 08
even grown ups loves that food!!heheh

•
21 Oct 08
sometimes if im not in a cooking mood ill cook something quick like pasta and then ill just mix it with a little light mayonnaise and chopped fresh tomato and canned tuna. other times i will cook pasta and fry some onions and tuna then poor in some chopped tomatoes, then serve with the pasta with grated cheese on top. jacket potato with tuna and mayo or beans and cheese is a hit on my house. fried eggs, mash and beans. i usually eat stuff like this in the week then on the weekend i will cook my jamaican chicken, or jamaican soup or a roast.

•
22 Oct 08
if you read through my posts theres a recipie for my jamaican chicken lol, just experiment sometimes with food, if your kids are not fussy eaters, mix food up and make your own creations, just the other night we had rice and mince beef and prawn bolognese, mixed in spicy onion and tomatos. does not sound nice, or look nice really for that matter but it smelt and tasted good and was also healthy.

• China
19 Nov 08
Hey,Hhey, I do think mum is the grestest person in our lives. it's she who put herself after ours. well, as a housewife, meals are really troublesome. my mum too. i adviced her before, u can write down all the food and vegatables meat in the supermarket,and list them. then u will find much easier for u to find out wt gonna eat... juse follow the turn ...lol best wishes

• China
11 Nov 08
Well, that's really not easy for prepare food for family especially for kids, whick consumes lot of energy, you perhaps need to rack brain to get an idea what is healthy and also delicious. I suggest cooking porriage and offering fruits for dinner which is easy to be digest and also delicious, since eating less in dinner is more healthier.

• Malaysia
6 Nov 08
Hi Nhey, rice is the staple food in my place. We usually take rice for the three daily meals. We have different dishes to eat together with rice. I notice that both my son and my nephew are very fond of taking dishes prepared from eggs and will finish the bowl of rice faster. Eating vegetable is good for health, but kids dislike plain vegetable, so beside steamed eggs with chopped chicken meat and boiled eggs I would like to stir fry vegetables like long bean or carrot or onion in stirred eggs with some other delicious ingredients. Sometimes I spread fried egg strips or place a fried egg on top of the fried rice or fried noodle to make the dish more versatile and attractive.

posting and have a nice day.

• Philippines
8 Nov 08
hello Ikbooi, our staple food is also rice... my kids love to eat rice and viand, but sometimes, i just dont know what to cook... but you're right i have to do a lot of innovations with the foods im cooking so it would look more attractive :) that's a nice suggestion...

• Pakistan
4 Nov 08
just cook anything you like or depends on the weather around you....

• Canada
22 Oct 08
I have a few options that i feed my kids. hope these help Banana tortillas 1-2 tortillias depending on how many kids 1-2 bannanas peanut butter spread the peanut butter on the tortilla lay teh banana on one side and roll it then cut it in little circles starting at one end i give my daughter jam to dip them in she loves them frenchtoast pancakes Take a small glass make circles in slices of bread dip the circles that you cut out and dip them in egg fry in frying pan until brown. I let my daughter dip them in syrup. but not to much or youll have a hyper kid!!! pancake salmon and potatoes Alot of kids dont like fish heres a good way to get them to eat it Take 1 peice of salmon per child cover it in pancake mix. dry not mixxed! (must use the ready made stuff that you only add water to) fry it in a buttered or oiled frying pan until salmon is pight pink and hot in the middle I serve these with either rice or mashed potatoes!! Cheezie mashed potatoes are great to Mash up some boiled potatoes add a bit of butter and mix in cheeze any kind cheeze whiz is great. Nacho cheeze is good if they like a bit of spice, hard cheeze is great to but you go to make sure the potatoes are really hot. if you have older kids heres a great nacho recipe ingredients nachos cheeze whiz or nacho cheeze shredded marble cheeze bacon bits tomatoes diced take the nachos lay them on a microwave safe plate/bowl microwave the cheeze whiz in a bowl top the nachos with the melted cheeze add bacon bits and tomatoes top with shredded cheeze microwave for 30-40 seconds until cheeze is melted enjoy! hope these help

• Philippines
22 Oct 08
I am not a very good cook... so everytime i run out of ideas... i just order take out... good thing there are a lot of choices in my area... But i have an aunt who have a notebook where she lists the food she will cook for the whole week... and she would always invent recipes that her family would love to eat... i wish i had some of her talent...

• United States
21 Oct 08
We have about the same choices for lunch every day in this house. Hot dogs, grilled cheese, peanut butter and jelly or mac n cheese. These are all things that the kids will all eat without complaints. For dinner my kids love to have breakfast! It is easy and they all eat it. Other nights we will have tacos or spaghetti. They all eat these dishes too.