What`s your opinion about guys who remove the hair on legs?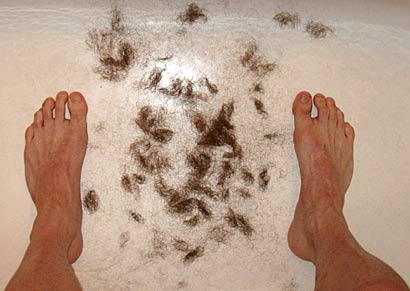 Romania
October 23, 2008 3:34am CST
Girls, what`s your opinion about guys who "laugh" the hair on legs? Guys, have you ever tried?
4 responses

• Philippines
23 Oct 08
ouch!!lol, why would they remove it anyway??i like guys more who are hairy,lol, but kidding aside the only one i know that remove the hair ineir legs was my gay friend, so i would see if i would saw another boy who would be removing hair on his legs i would think he is a gay!!!lol

• Philippines
23 Oct 08
hahaha, is that so??hey you do the same thing also??remove your hair in your legs??lol!!maybe it just depends on the things that youre accustomed to do, maybe right there in your place its the thing they are doing, then thats fine, but here only the gays do that, as far as i know!!!


• United States
21 Nov 08
haha! well i don't know if that's the best thing to do for a guy...i mean a guy's hair grows back even faster and courser every time they shave, so I would just logically have to say, that would be stupid of a male. Also, it may just be me, but I think being hairy, like defines a guy. I mean the female sect has gotten so much more than a guy( not to mention suffer more) so it would only be fair for a guy to have to have some features I suppose, but it defines us, it shows our personality, our views on the world, everything. I personally have never shaved my legs( lol i don't think anyone could convince me to) , but it would seem like that would hurt the guy more than it's worth. Also, it was some Greek Prophet or Prophetess who said that the hair on a guy is their size of their labido.