Reese Witherspoon and Ryan Phillipe's Split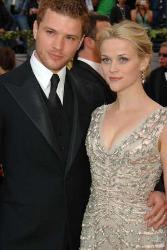 United States
November 7, 2006 3:09am CST
Why do U think they broke up? Who you think is hotter?
2 responses

•
13 Nov 06
I've recently read about it and I'm surprised! And to learn Ryan had cheated on her in the past. I used to think he was hot but not now. Darn! First the Brad Pitt/Angelina Jolie mess and now this!

• United States
9 Nov 06
According to the magazines, Ryan was extremely jealous of her success and has been for years. Then he recently ended up cheating on her with her co star to spite her...thats if the magazines can be believed. I would say Reese is hotter because she doesnt seem to have that jealous/arrogant attitude that Ryan seems to have.