Do you think we need a change in our current system of education?

India
October 24, 2008 6:34am CST
We have a highly-rated system of education in the world and our students are among the best worldwide. But we could be the best if there were some amendments made to the way our studies our conducted in school. We are heavy into theoritical studies while the demand of the times is more practical knowledge. Instead of cramming in a huge and lengthy syllabus, we could do with a shorter and more sensible syllabus that would hold us in good stead throughout our career.
2 responses

• India
24 Oct 08
Hello mayank!!! I also think that we had only theoritical studies in our education system with a lengthy syllabus and practical knowledge is very less or may be tends to nill also in some fields.if certain changes were made on our education system than more interest also develop in students for their studies and if more preference is given to practical knowledge than the student hold good command on it...

• Romania
24 Oct 08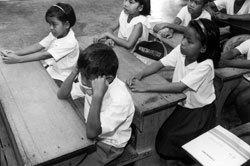 Are countries where the educational system is really good, example is Finland. In Romania it is down. Nothing goes well in it. Even today, our president promulgate teacher raise (a zoom over 50%). They increase their salaries but will certainly teach the same, that is stupid. Even now talking about it on TV. It is believed that the government will fall behind the salary increases (for teachers, as the rest are not very much).