What are your favorite cat sites?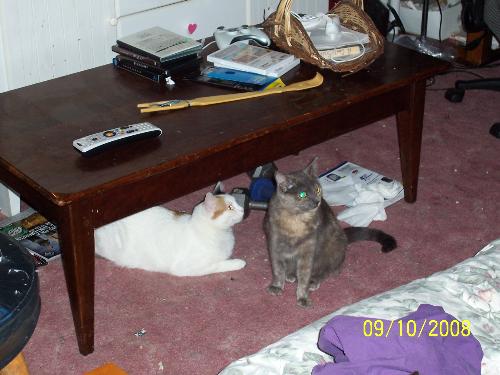 United States
October 24, 2008 1:08pm CST
I am always looking for good quality cat sites. You know the type. the world of living with cats and the like.

What are some of you favorites? What are some of your favorite cat moments caught in pictures. Here is a cute one for me. Maybe yours is from one of those sorts of sites as well. Please share if so. Cheers, and remember, the funnier the better.

My cats pictures here had just run around the house and destroyed the room. they paused here I am guessing to see how the humans thought of what they had done. What?

No, I was cool about it with them. I do, however utilize the water effect to try to stop their bad habits as they arise.
1 response

• Hartford, Connecticut
24 Oct 08
Have you joined Catster.com? thi site is a great place to tll stories and upload pictures of your cats. Here is where you can find one of my cats.. GOBI www.catster.com/cats/211630 If you go down the page.. you will see where it says my family these are just some of my dogs and cats.. I still haven' uplaod my kittens pictures yet... lol

• United States
31 Oct 08
I will have to go check that out. Sounds nice.

I have found several on the net. My favorite ones are the sites that have comedic things about cats on them.

I love to see the pictures of cats in agood poses for that. I uploaded one of my favorites.

Tooooo cute.