Would you go into a new relationship with someone who already has children?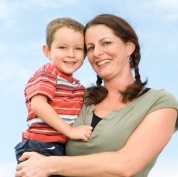 United States
October 28, 2008 4:30am CST
Some people are very open to being a relationship with a person who already has children. They are willing to take the package deal and end up becoming wonderful step parents. My brother in law is one of them. He married my sister when her son was 5. They have been married 4 years now and my nephew adores his step dad. Before my sister met Jim she briefly dated a man who in the end was just not comfortable with the fact that she already had a child. It bothered him and I guess the fact that he was honest about it early on was better than hanging on when he didn't feel right inside. I guess on the opposite side a single parent who is dating may choose to end a relationship with someone if they find they are not a good match for thier children as well. Are you a single parent who dates? Or have you dated a single parent? If you met someone wonderful but they already had a child or children would you decide not to date them..and if so..why?
4 responses

• Malaysia
29 Oct 08
Good for you that your family members get married to someone who already has children. I think it is an advantage to marry someone with kids because when you marry him, you automatically get kids and the kids are considered yours because you married their parent. Furthermore, marrying someone with kids show a hint that our spouse is more matured than those who haven't got any kids yet. A person with kids had known how to take care of babies and had parenting instinct already planted inside their souls. As to people without kids we don't know yet whether they will be a good parent or not. I never object if my family member wants to marry someone with kids. I think it would be merrier because the minute you get married you already have extended family members and this is one type of asset too.

• Philippines
28 Oct 08
I never judge any one. I even don't care if she is a single parent as long as I love her and wanna spend my life with her. Love is no boundaries. As long as you feel love I guess. Their also human and no one is perfect in this world even relationships. Life is a journey!

• United Kingdom
28 Oct 08
A number of years ago I was in a relationship with a man and he had one son. His son was two years younger than my older son. My ex boyfriend was divorced and got on really badly with his ex wife. She looked after the son four days a week and we had the son three days a week. We had him one evening until the morning during the week and all weekend. It was stressful when my ex-boyfriend wanted me to go out in the evening instead of do marking and planning. One time we went to a Chinese Circus with people doing all sorts of amazing things. At school the next day I felt really tired. The son had quite silly behavior sometimes and I couldn't say the right thing at such times. There could be tension and there was much of this when we all went on holiday together to Turkey. I think it is fine to date a single parent if get on with the man and the children.

•
28 Oct 08
i am in a relationship with somebody who has a child. i am not very old so mu family were not very pleased about it. his son is three and lives his mother so he only has access on weekends. i dont really mind that he has children as it doesnt have any effect with our relationship at all.