What can you say about the justice system in the Philippines?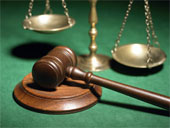 Philippines
October 29, 2008 3:04am CST
I watched news everyday and there were a lot of police crimes unresolved. Some of them cannot even find clues to what really happened. I also noticed that most people who were given a huge favor are those from prominent or rich families. Do you agree with this? What can you say about our justice system?
1 response

• Philippines
29 Oct 08
hi sushihunk! well you are quite right. although it is not always the case, i think it is the rich who always has the upperhand. and it is sad that there are some who get imprisoned for life even though they are innocent just because they cannot afford a good lawyer. and although the state provides lawyers, they say that the victory rate when having them is almost nil. oh well, let us pray for the protection of our families that we will not get into these legal messes. take care and God bless you!