Which woman has the record for the longest hair?

India
October 29, 2008 12:10pm CST
Asha Mandela from South Florida has made it to the Guiness Book of World Records as the woman with the longest locks. The 46 year old lady has dreadlocks measuring up to 8 feet 9 inches long. It takes upto one bottle of shampoo and one bottle of conditioner every time to wash her hair. It takes days for her hair to dry.
1 response

• United States
29 Oct 08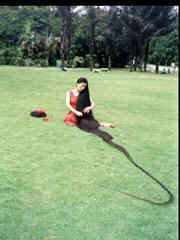 Asha may have the longest dreadlocks but not the longest hair. That record belongs to Xie Qiuping of China. Xie's hair was 18 ft 5.5 inches when it was measure by Guinness back in 2004. If she hasn't cut it I would think it is probably over 19 ft by now. I've attached a picture of her. I can't imagine how long it takes to wash that hair!