Do you like to keep your house clean and tidy?

India
November 1, 2008 10:54pm CST
Hi friends, I am person who always love to keep the house clean.I really hate untidy.So everyday i look after the house especially my room.I always have a habit of keeping the things in a right place.If i forget,then the next day after i come or get up from the bed i keep the thing in the right place and go out.I don't allow my mother if she keeps the house the untidy.I always care about neatness.I want to know if anyone are like me. I think i am right in myself in doing that. Share your comments about this.
5 responses

• China
12 Jan 09
Yes,sure ,you know my parents like tidy and clean room since they think that keep the room tidy and clean will keep our mind clean and sanity ..maybe a little bit aboslute ..but some sort of truth within .. For me ,I am not that type of person who like to clean the room ,I will do this only when I find it is hard for me to live in that environment ,maybe you will say I am a weird girl ,nevertheless ,I am just telling the truth .. Hope u well;-)

• Malaysia
11 Jan 09
Oh yes you are definitely so right in keeping your room clean. I also like clean, neat and tidy living environment. It's good for health and our mental state. I think this is a habit which can be cultivated right from young age. My mum trained us siblings right from young so it stayed with us. Can't stand things all over the place.

• Canada
2 Nov 08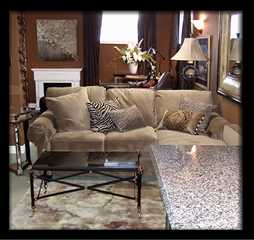 I am a house cleaner by trade and I am self employed. My daughter and I clean 5 houses a day, most days. So we clean 25 houses a week. So yes, to answer your question, our house is very neat and tidy. I can not tolerate messiness. We have a dish washer so we have no excuse for dirty dishes on the counters or in the sink. We have a built in vaccuum cleaner that is so easy to pull out and vaccuum. We each have our own bedrooms so we have no excuse for our things laying around the rest of the house. I am a bit anial about a clean house. I do most of the cleaning at home and that is okay because my obsession is not my daughters fault. She is pretty good though with the house rules and she doesn't complain and neither do I if she leaves something a mess, I just clean it myself. To give you an idea about our home I have posted a picture here of my livingroom. We have our whole house decorated like this so if things are out of place it looks messy. Alrighty then, talk to you later, your friend Chris.


• Estonia
2 Nov 08
I'm holding my room and my table clean. It's very good for studies. When I come home and I see a clean place, it makes a better environment. And I don't have any things around, that would annoy my sight. And it's also nice when you have a clean room. And always when I have cleaned my room, it feels quite good. So i like to keep my room tidy. ;)

• United States
2 Nov 08
Of course, you never know when someone is going to drop by.