Complete Stats in Neobux.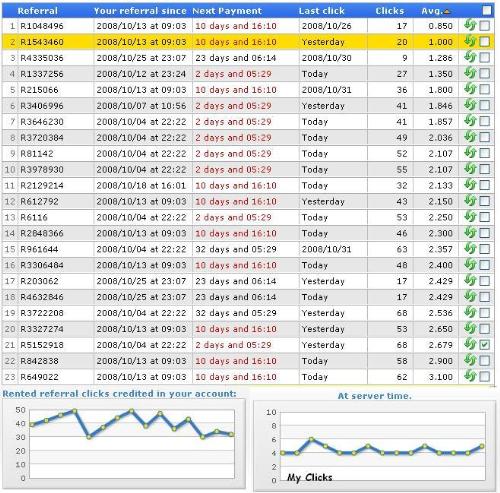 India
November 2, 2008 6:49am CST
Check out the image. It was my complete statistics in Neobux. I bought 23 referrals in Neobux and I think it was a loss of business to me. If I have to get profit, every referral must click 2 adds daily on average per day. Till now Their average click per day is 1.93 clicks. If they haven't clicked the 2.34 clicks per day on average from now onwards (it was impossible), then I will lose my money.

In other words, I have invested $7.74 for them and they already made 987 clicks ($4.935). If I wasn't a lost any money, then they have to made more 561 clicks ($2.805) which it impossible.

I have posted the same in Neobux forums, and may be no one can make response to me. If the same statistics continued to the end, then I will loss $0.5.
Have you ever calculated the returns from the referrals. Did you got any profit.

Now onwards, I am recommending my friends to not to invest in Neobux. It was waste of time and money.
3 responses

• United States
5 Nov 08
Once the average is below 2, you should recycle them.

• Davao, Philippines
3 Nov 08
it is hard to earn if you are not a golden member of neobux, most of their refs available are not active. i lose hope with neobux that is why i am concentrating with buxout and sandra. so far so good, i earn more than enough on my investment. i will work first my sandracklicks and buxout account before neobux.

• India
2 Nov 08
I go with you man. I am also not satisfied investing in Neobux. I tell that to everyone who wants to invest. I invested in Buxout and Sandra also. Both the sites were too good. The referrals are very active. I am going to reach my payout level in both the sites. I will definitely invest in those 2 sites and not in Neobux. Its just waste.