Are you already preparing/or are those around you hot and steamy for christmas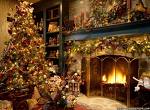 Trinidad And Tobago
November 2, 2008 8:03pm CST
I must say that currently everyone in my country is talking about christmas, buying gifts for loved ones, playing christmas carols and have even started painting up there houses. Every one is going christmas crazy and so are store owners, their offering all sorts of unbeliverable discounts. I on the other hand, my excitment has not built up as yet, i have alot of other things to free myself of first before i start making why for christmas perperations. so what about you are you all ready in the christmas sprit? Have you already made your list of thing you need to purchased? Are there any gifts hidded in you house for your loved ones so far? or are you wait till next month to get everything up and going?....
2 responses

• United States
3 Nov 08
i think they start christmas way too early. what about thanksgiving? it's totally ignored. i'm so tired by the time christmas gets here i'm worn out w/it. the stores drive me nuts putting out christmas so early.

• Trinidad And Tobago
3 Nov 08
I got to agree with you no one plays much mind to thanksgiving any more, it sort of like it never exsisted. when you look around in the stores everyones in like a christmas madness. kids saying they want this gift and the other hear and there. i too think it's too early. i want into a store yesterday for a lookin pink top, but all the great styles were only in red!



• Trinidad And Tobago
11 Nov 08
Thank you for commenting cocooreo and even if you don't celebrate it's nice to know that you still enjoy the festivities.