Hemp Hearts!

Canada
November 3, 2008 8:58pm CST
I have just discovered the pleasures and virtues of consuming Hemp Hearts! Hemp hearts are the most concentrated cource of essential nurtients known...and now for the first time in my life, I am eating breakfast, and boy, am I finding a new burst of energy....I feel like I am turbo charged! I also found that I had to consume them for breakfast, because I had too much energy to sleep! I take 5 tablespoons on yogurt & fresh fruit..(314 calories) which is loaded with amino acids (protein), loaded with Omega 3, 6 and 9 oil, Vitamin C, E, B6,b1,D,A, Potassium & Phosphorus. And they are totally suitable for those unable to eat gluten, sugar, milk, nuts or meat. BEST OF ALL .....THEY TASTE GREAT! I noticed an energy difference the 2nd day! Cheers!
1 response

• Malta
14 Jan 09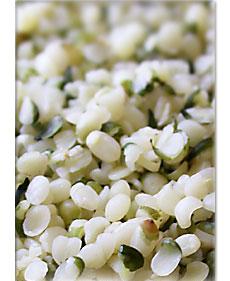 I am glad that yo have found this vitamins and made them a stable diet and that they are giving you the energy that you need. I hope do take care of yourself since your job entails a lot of hard work. (c) ronaldinu 2009 - the more people I meet-the more I love my dog

• Canada
15 Jan 09
You are so smart...where did you get that pic of hemp hearts? But, furthermore, my dear friend, have you tried them? They really are delicious, half way between the flavour of a cashew & a pine nut...YUMMY! So nice to find something that is sooooo good tasting...and know that it is good for you...it is almost decadent! Are they available in your country? Cheers!