Can your share about your country?

Kuwait
November 5, 2008 6:40am CST
Hello to all my co-mylotters can your share to me about your beautiful country,i just curious because i hears lot of good & bad story about different country, so i want you to share about your country. Thank you in advance.
7 responses

• Philippines
14 Nov 08
Hello Ohara, I just want to share some information about my wonderful country too. I think two mylotters already described the Philippines and its nice places and my post would only be an add-on. Well, inspite of political issues which is normal in each country I must say that the Philippines is a very nice spot for vacation for those who want to unwind and spend time with their families. I personally haven't been to Boracay but its a popular place to visit anytime. Tourists never miss to go there specially during summer season. Its located in the province of Aklan, an hour away (i think) from the capital of the Philippines which is Manila. by plane. If you wanna experience going native personally like shopping for native bags or footwear, you could visit Cebu in Visayas and other parts of Luzon like Liliw Street in the province of Laguna. Dried mangoes are sold in Cebu also, I wonder if you have already tasted it. Davao is a must see too. Hope you could come here and experience it with your family. God bless!

• Malta
8 Nov 08
All that I can say that Malta is a beautiful small island surrounded by the Mediterranean sea. You can look for some photos in my profile. © ronaldinu 2008


• India
5 Nov 08
I am from India. India is a tropical country and because of this we have all the threeeasons namely summers, winter and rainy seaso. In each season my countr does have a different beauty. India is surrounded by sea three sides, i.e it is a penunsula while the northern part of it is covered by ice claden mountains. We are really lucky to have different terrains in our country. We have plains, dense green forests, high altitude mountains, hills, deserts, big water bodies and bays. Our country is basically is an agricultural country which is irrigated by many big rivers on banks of which many big cities are situated. We have many types of flora and fauna, some of which are exclusively seen in my country. The main wild animals of our country are Lions, tigers, Leapards, Cheetas, Elepahants, Bears, Deers, Crocodiles and many snakes. We have many types of birds too. Our national bird is Peacock and natinal animal is Tiger. Lotus is our natinal flower and our national flag consists of three stripes of saffron, green and white, with ashoka chakra in the white stripe orming the central horizontal stripe with saffron on te top and green at the bottom. India is a Democratic country !We have more than 25 states in our country which are basically divided according to the language spoken there with respective state capitals as their head Quarters. Delhi is our National capital and it is national head quarter where we have our parliament represented by elected MPs to attend the sessions to discuss national problem India is having a rich history of its glorious past anf heritage. It was copilation of princely estates before it went under the rule of East India Company and some of these princly states were still there till the independence ! We have the decendents from these Royal families still in India, with few members actively taking part in Indian Politics. Thus because of these princly states we have lot of historicalmonuments like forts, palaces and wonderful costructions created by these Kings during their times which are worth watching.Taj Mahal, Qutub Minar, Palce of Myore and many such things are worth watching. We have people speaking about 814 languages including dialects in our country and we hold the record for this in Guiness World Records. Tamil is a Dravidian language which is considered to be one of the most oldest language poken in the World. English and Hindi are Officiallanguages with few other languages. Hindi is our national language. Ours is a nation with many relegions like Hindu,Muslim, Sikh, Christians, Buddhists,Jains, Bahai Sect and many more, all living together in peace and harmony. With so many diversified religions and languiages we are all living a happy life in our Country to convey our 'Unity in Diversity' !!! India was under Britishers till 1947,there after it got its independence. Since then India has progressed in laps and bounds and today we are self sufficient and are suppoerting other small contries. We are having many universities where from every year we are getting many gradualtes in various fields, We have strong Scientific Research Centres, We have strong health programmes and manages to erradicate some diseases like small pox etc from our country. We have public health schemes, Public education system where the common man is entitled for availing all the possible facilities. India is a beautiful country with natural beauty and man made constructions. We are famous for our hospitalitis and regarding our guest our God! With modern facolities and the technology India has developed very fast and with the most ptoductive youth energy which is aptly qualified we are looking forward to become one of the super powers of the World sooon! Thanks Dear friend it was really an excellent topic of discussion and I liked participating in it!

• United Kingdom
5 Nov 08
I live in a cold country in Europe and it is an island. The capital city is London and it has sights like Tower Bridge, the Tower of London, the River Thames, Big Ben, the Houses of Parliament and Buckingham Palace. My home country has beautiful green fields and old cottages in villages. In towns and cities much attractive architecture can be seen. Stratford Upon Avon is where Shakespeare came from and it is a lovely historic place. Bath is a spa town with an fascinating history. Chester has Roman Walls to walk on and York has a famous minster. The Lake District is a rural area full of stunning views and areas of water. The public transport system is complicated and expensive. Accommodation can be a hotel, a guest house, bed and breakfast, youth hostel or camping. The currency is the British Pound.

• Philippines
5 Nov 08
Hi, I'm from the Philippines. it's a very warm country because we're near the equator, so if you live in the north then this is a good place to visit when it gets too cold over here. We have wonderful beaches, which you might have heard of. But what I really like about is that we're "third world" so everything's quite cheap. the food's cheap, accommodations are cheap, clothes are cheap... of course if you want more high end goods then you have to pay more. :) Another good thing about my country is the fun loving and very friendly people.

• Philippines
5 Nov 08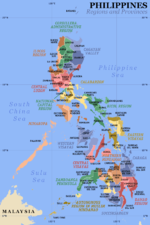 The Philippines (Filipino: Pilipinas, officially known as the Republic of the Philippines, Filipino: Republika ng Pilipinas), is an island country located in Southeast Asia with Manila as its capital city. The Philippines comprises 7,107 islands in the western Pacific Ocean, sharing maritime borders with Indonesia, Malaysia, Palau, the Republic of China (Taiwan), and Vietnam. The Philippines is the world's 12th most populous country with a population of 90 million people.[4][6] Its national economy is the 46th largest in the world with an estimated 2008 gross domestic product (GDP) of over US$154.073 billion.[6] There are more than 11 million overseas Filipinos worldwide, about 11% of the total population of the Philippines. It is a multi-ethnic country. Ecologically, The Philippines is considered to be among 17 of the most megadiverse countries in the world.[8]Prior to the arrival of Europeans in 1521,[9] the Philippines was already settled by Austronesian (Malayo Polynesian) peoples. The Philippines became a Spanish colony in the 16th century, and a territory of the United States in the 20th century. In 1896, rebellion led the Philippine Revolution that won independence from Spain. American occupation of the Philippines during the Spanish-American War led to the outbreak of the Philippine-American War. A Commonwealth government was established in 1935, which allowed self-governance. The country gained its independence from the United States on July 4, 1946 after World War II. Martial law was declared in 1972 which led to the insurgencies of the New People's Army and the Moro National Liberation Front. Liberal parties then led People Power Revolution of 1986, which would bring the country back to democracy.[3]The Philippines is one of only two predominantly Roman Catholic countries in Asia-Pacific, the other being East Timor. Pre-Hispanic indigenous rituals still exist; and there are also followers of Islam.[10] Spanish was an official language of the Philippines until 1973. Since then, the two official languages are Filipino, and English.[3]The name Philippines was derived from King Philip II of Spain in the 16th century. The Spanish explorer Ruy López de Villalobos used the name Las Islas Filipinas (The Philippine Islands) in honor of the then Crown Prince during his expedition to the Philippines, originally referring to the islands of Leyte and Samar. Despite the presence of other names, the name Filipinas (Philippines) was eventually adopted as the name of the entire archipelago The Philippines constitutes an archipelago of 7,107 islands with a total land area of approximately 300,000 square kilometers (116,000 sq mi). It generally lies between 116° 40' and 126° 34' E. longitude, and 4° 40' and 21° 10' N. latitude, and borders the Philippine Sea on the east, the South China Sea on the west, and the Celebes Sea on the south. The island of Borneo lies a few hundred kilometers southwest and Taiwan directly north. The Moluccas and Sulawesi are to the south-southwest, and Palau is to the east beyond the Philippine Sea.[2]The islands are commonly divided into three island groups: Luzon (Regions I to V, NCR and CAR), Visayas (VI to VIII), and Mindanao (IX to XIII and ARMM). The busy port of Manila, on Luzon, is the national capital and second largest city after its suburb Quezon City.[2]The local climate is hot, humid, and tropical. The average yearly temperature is around 26.5 °C (79.7 °F). There are three recognized seasons: "Tag-init" or "Tag-araw" (the hot season or summer from March to May), "Tag-ulan" (the rainy season from June to November), and "Tag-lamig" (the cold season from December to February). The southwest monsoon (from May to October) is known as the "Habagat" and the dry winds of the northeast monsoon (from November to April) as the "Amihan".[22]Most of the mountainous islands used to be covered in tropical rainforest and are volcanic in origin. The highest mountain is Mount Apo located in Mindanao measuring at 2,954 metres (9,692 ft) above sea level. There are many active volcanos such as Mayon Volcano, Mount Pinatubo, and Taal Volcano. The country also lies within the typhoon belt of the Western Pacific and approximately 19 typhoons strike per year.[23]Lying on the northwestern fringes of the Pacific Ring of Fire, the Philippine Islands experiences frequent seismic and volcanic activities. Some 20 earthquakes are registered daily in the Philippines, though most are too weak to be felt. The last great earthquake was the 1990 Luzon earthquake.[24]The longest river is the Cagayan River in northern Luzon. Manila Bay is connected to Laguna de Bay by means of the Pasig River. Subic Bay, the Davao Gulf and the Moro Gulf are some of the important bays. Transversing the San Juanico Strait is the San Juanico Bridge (considered a point of vital national infrastructure and capacity), that connects the islands of Samar and Leyte