What kinds of fishes do you own?

Philippines
November 6, 2008 1:24am CST
What breeds of pet fish do you have in your pond or aquarium? I have: 2 rainbow fishes 7 tiger barbs (arrrggh!) 1 plecostomus or janitor fish 1 goldfish I'm particularly pissed at the person who bought the barbs using my money. Within a week, they have pecked to death 2 angel fishes and my 1-year-old goldfish. What a waste of money! I would have preferred all GOLDFISHES. It would make my aquarium more beautiful.
2 responses

• United States
6 Nov 08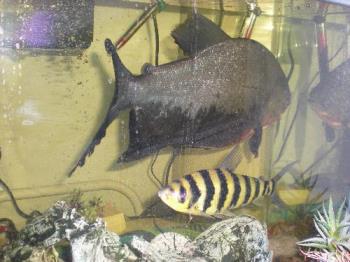 In one tank, I have three pinapple swordtails, a bala shark, a dinosaur fish (a monster fish waiting to explode), and a big pleco. In the larger tank, I have a monster pacu, a very large yellow and black striped loach, and a giant pleco. In the pond outside, I have goldfish that are getting too big - I think there are seven of them and a red earred slider water turtle, Daisy, who is the biggest I have seen. Here is a picture of the pacu and loach. I wish it was a better one of Tigger (the pacu), but it was the only shot with both of them.

• Philippines
6 Nov 08
Wow, you've got HUGE fishes. I just don't understand why my fishes in the aquarium never grow past medium size. Any tips? Maybe it's because there are two many of them. I have a medium-sized tank.

• United States
7 Nov 08
I hate to be the one to tell you that the loach is not a loach is not a loach but rather a type of head stander. It is still a great looking fish.

• United States
7 Nov 08
Usually fish stay the size the aquarium can hold, but that is not true with the Pacu. They keep growing no matter what. In fact, I need to find Tigger a good home because he is getting too big for the 55 gallon tank. He was a good lesson on finding out about a fish before buying them. My husband calls Thumper a loach and my neighbor, who is a total fish type professional has some long name for him/her that starts with an L. I don't know, I just feed and watch him. He's pretty cool. Semi agressive. Pretty fish. My son picked him out at Pet Smart three years ago. I've always had a tank since I was nine and I won a gold fish at the school fair. That guy lived for 11 years or so. I'm not a fish expert - total novice, who just likes fish and I must be lucky because my fish usually live a long time.


• United States
7 Nov 08
I only have a dozen tanks set up and running at this time but looking for more places that i can put more. I have (1) 75, (1) 55, (1)50, (1) 40 long, (1) 29, (4)20, (3)10 plus a 2 & 1/2 gallon tan running.I have many different kinds of American cichlids including Geophagus iporangensis (two breeding pairs, platinum Honduran red point cichlids (one breeding pair, Cichlasoma dimurus (one breeding pair, about a dozen adult angelfish including a breeding pair of half black angelfish. 5 clown loaches including 3 that are 6 to 8 inches long, (3) red shoulder severums, (2) royal plecos, (1) albino bushymouth pleco, (6) festivums including one breeding pair, (1) six inch firemouth (he has won a few prizes in aquarium club shows),and several other kind of fish that I am raising for breeding purposes.

• Philippines
7 Nov 08
Wow that's quite a lot of fish, oscar. Since you're breeding them, can I assume you're doing this as a business to earn money, or is it purely just a hobby?

• United States
7 Nov 08
It is both a hobby and a business that i hope will at least pay for it's upkeep and then have some more to get more equipment and fish to make even more money. First off it is a hobby that I really enjoy (I have been in the hobby for over 55 years now ), Since it is not exactly inexpensive to maintain this number o tanks I wish to make enough money to have them pay their own way. I have several pet shops that will buy from me and one wholesaler also that says that he will buy from me. I belong to two tropical fish clubs and the members there buy from me so I am in the process of making some money.I eventually would like to build a "fish room" in the garage so that I can put most of the tanks there to breed fish in larger scale.

• Philippines
8 Nov 08
That's quite a hobby! It's nice that you're earning from it, and enjoying it at the same time. 55 years? That's amazing! I hope to be the same as you when it comes to my photography hobby. The fishes I have here are actually my mom's idea. She buys into that feng shui talk about having fishes in the fish being lucky. She just don't know how to choose fishes. As for me, I'd want it to be all goldfishes to be safe because I'm a total noob, but she wants diversity. She ends up choosing incompatible breeds and I lose my beloved goldfishes. Too bad I don't have pictures to share.