I can't fall back to sleep once i awake..!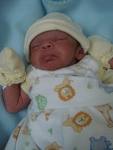 India
November 7, 2008 11:18am CST
Hi friends,Am I the only who.. Once they have woken up they have a difficult time going back to bed afterwards. I find each time I wake up I can't go back to bed.. I've been like this from childhood.. I find if I do eventually go back to bed that it takes me hours on end to finally fall back to sleep all over again Am I the only one who has this problem? If I'm not the only one & you are able to relate.
1 response

• Philippines
23 Nov 08
You are not alone, my friend! I also have this problem, and I've had this since I was small. I would wake up in the middle of the night for some reason and then it would take me hours to get back to sleep. Sometimes, I would fall back to sleep when the sky is already starting to light up and then I'd be shaken awake again for school. Before, this happens to me too when I wake up to go to the loo at night. Fortunately these days, as long as it's still dark, I would be able to go to sleep again. However, when I get awakened by other things like noises, or even rain, the problem still persists.