My dog has given birth to three puppies!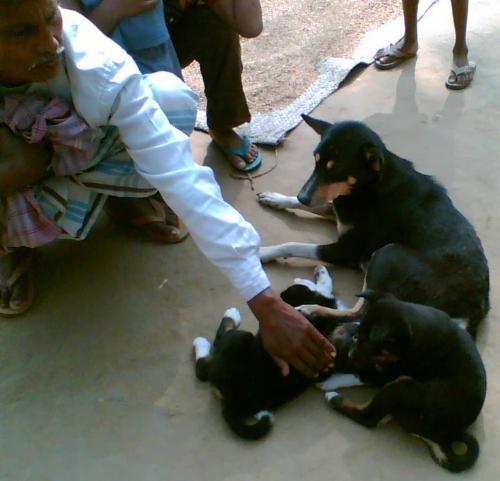 India
November 7, 2008 7:36pm CST
I have a pet dog. I call her by the name 'Rani' (queen). She is very fond of me. Whenever I go out she will keep persisting that she go with me! So, I have to leave surreptitiously when she is not around or she is sleeping. Recently Rani has given birth to three puppies. They are very cute and healthy. The puppis play with one another. It gives me a lot of pleasure. Whenever I go near the puppies, they rush towards me and trie to climb up me! While I am standing they keep licking my legs! They start sucking my toes or other fingers as if they were taking milk from their mother! I can understand, they make fun with me! I wash their bodies with soap and shampoo. I am not sure if their mother is a bit jealous, as I am recently giving less care to her! LoL. I have attached the photo of my dog and her puppies.
2 responses

• China
19 Nov 08
wow, first congratuations to u, well i am a little bit envy u have such lovely pet dog. to me, i am too lazy to keep any pet. if i do have, it should be some pet who never ask for food or other things . bcz even myself is too lazy to eat.. lol best wishes cute pet dogs

• Malaysia
8 Nov 08
I am a bit jealous of you, you know? LOL... just kidding. Actually I really like dogs but my religion prohibits me from owning dogs. However if I can keep a dog or a puppy I would, because I like to look at the cute faces and to observe their intelligence. I am sure you must feel very happy living together with your loyal dog and her three puppies. I can just imagine how nice it feels when they lick your toes... it is such a happy feeling. I can feel their love towards you and your love towards them. I wish you all the best and I hope your dogs and her puppies will be healthy forever. Take care.