Heard of Sidhuisms?????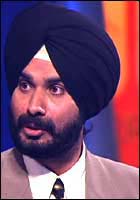 India
November 7, 2006 10:55am CST
So Guys .... Every line spoken from Sidhu's mouth is calld a Sidhuism.... Do u know any???like.... 1. Experience is like a comb that life gives you when you are bald.... 2. Statistics is like a Bikini it reveals almost every thing but hide the most important paart 3. As uncomfortable as a bum on a porcupine 4.If my aunty was a man he would have been my uncle
1 response

• India
27 Jan 07
Yes, I am a big fan of sidhu and his sidhusisms. He has created a new sort of wave his cool and timing sidhuisms. My personal favorite would be "Don't talk in front of my back"! It is a pity that he had to be jailed for his alleged incident involving a brawl and killing him.