Rafael Da Silva: An Exciting Prospect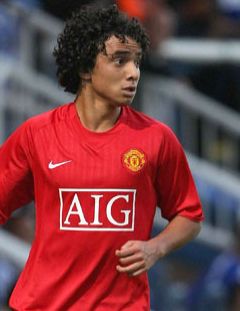 Malaysia
November 8, 2008 9:23am CST
Born in Rio de Janeiro, Rafael possesses exciting talent. He plays as right full-back, whereas his twin brother Fabio Da Silva plays left full-back. He likes to get forward and has good pace. He possesses excellent ball control technique, typical of a Brazilian player. But Rafael is not just a threat going forwards, he is a very strong defender, and tackles very well. From some of his performances this season, I personally think he should be playing in the first team more often. Gary Neville is struggling to cope with fast-paced wingers. Even if he has good tackling ability and has the experience to take up good positions defensively, his weakness in terms of his pace prevents him from making accurate tackles as he will be left behind by others younger players. Wes Brown was very consistent last season, and is a very good player who have great balance between attacking and defence. However, this season I think he is under-performing. After scoring a wonderful goal against Arsenal, I think Rafael finally deserves a first-choice place in the first team. He is only 18 years old currently by the way. Drop some of your comments about Rafael Da Silva here.
5 responses

• Romania
8 Nov 08
I think he can become a really good player. I've seen him play only twice: once against QPR, if I'm not mistaking (or was it WBA?), and today against Arsenal. I was happy to see him the first time, because such players should be encouraged by playing against the smaller clubs first, and then stepping up for the really tough games. He played good against Arsenal too, the goal included. I think Neville is really not in shape... His experience is not compensating for his poor shape anymore.

• Philippines
8 Nov 08
Man U should definitely be in shape. They should hire some fresh legs in order to be in completely new shape. look at their fiercest rival, the Blues. They have been in restructuring. And look at Hotspurs and Liverpool is on the run.

• Malaysia
17 Nov 08
Yes, exactly. Experience does count in certain positions, like central midfield, goalkeeper and central defence. But for a wing position, pace is very important. Experience can't compensate that. Like, Scholes, even though his energy levels has declined, but his experience in that area does count a lot, as that position doesn't require a lot of running.

• India
21 Nov 08
Fro this discussion I am really excited to see this player play.i have not watched him play.I missed the arsenal match and now I am dying to see the guy's game.If he is such a good talent,then Sir Alex needs to play him more often.Such young talents need exposure and if guided well can be real match winners.I will keep in mind to look for this player.Thank you.

• Malaysia
10 Nov 08
I found the comment about him in one website : " He tackles like Dunga Dribbles like Robinho Scores like Adriano " Really interesting the preposition and hopefully he will continue to shine for Red Devils. When we will have a chance to watch his brother Fabio Da Silva who play on the left side.

• Malaysia
17 Nov 08
Dunga will have to take a good look at him and consider him playing for the Brazilian first-team. Brazil's performances in major competitions has been under-par recently, as football has been dominated by European countries. Someone like Rafael can bring that flair and pace back into the team.

• Singapore
9 Nov 08
He is really good , he will be the player to watch in the future yea .

• Philippines
8 Nov 08
The Red Devils need some fresh legs. Gary Neville is just way too old already to run with other players. Same as Gigs. As far as Rafael is concerned, the boy has a lot of potential. Sir Alex Ferguson would not mind losing Ronaldo to Real Madrid. he always have Da Silva to replace him. And considering that the boy has really a great opportunity in outlasting defenders, it is really nice to see some new faces at that position.