Grand Wedding

Philippines
November 8, 2008 12:38pm CST
For the past two consecutive days I've attended two grand weddings!One of my niece's and of my highschool classmate's daughter.It were so grand! with all those long entourages walking the aisle,beautifully decorated churches,elegant gowns of the witnesses and visitors,lots of gifts for the couples,heart-felt wedding ceremonies,festive and sumptuous dinner for all who attended,acoustic songs playing while eating,band playing for the dance part.there was a part when the couples danced,visitors would pin money on their wedding attire.How about you friends,how do you celebrate a wedding?
5 responses

• Philippines
9 Nov 08
hi, teshavill. a beautiful wedding for me is one which, of course a couple who clearly loves each other, lots of beautiful flowers, carefully chosen songs and happy guests. on my wedding, my husband and i trimmed down the guests as much as we can so that we can have a beautiful wedding (the more guests, the more expensive right? LOL!) i mean, since we did not have a lot of money,so we opted to have a not-so-big wedding so that we can have a beautiful reception with a lot of flowers and sumptuous food. instead of the "money dance" or "prosperity dance", we opted for "selling sweets". i think the guests happily bought our sweets because we specifically asked them not to give gifts in kind, so they just gave us cash instead. saved them a lot of time :-) take care teshavill. have a nice day!

• Philippines
9 Nov 08
Yes,it is just practical to have a simple wedding nowadays but a very memorable one.One can always make a simple wedding into a very beautiful and memorable celebration.Wow.. selling sweets,that is so unique,that 's the first time I've heard about it.Thank you for responding.Take care too.Goodnight!

• Philippines
9 Nov 08
Sounds like two beautiful weddings... i love attending weddings since that is like the start of a beautiful family... first time i witnessed that couples dancing and visitors pinned money on their clothes was when i was very young... and it was the wedding of my father's cousin... it was such a sight to behold... and the food was always something to wait for... I never had a grand wedding since we cannot afford it... so i just live my dream by witnessing the wedding of others...

• Philippines
9 Nov 08
yeah,attending such beautiful occasion is always nice to remember,especially those different ways on how they celebrate it.But for me,Be it simple or grand,it really doesn't matter.My wedding was just so simple but it was still the start of my another phase of life with someone I really love and that is something I woud always cherish.

• United States
9 Nov 08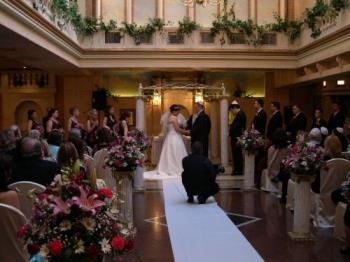 This is NY, most of the weddings here are like that and are very costly. But the BIG difference is the gifts. We bring CASH and give envelopes to the happy couple. here is a pictur of my niece's ceremony

• Philippines
9 Nov 08
Hi Barbie!Here in PI,we also have that cash giving instead of giving any other material gifts because for all we don't know,they would not like or need it hehehe.Seeing your niece's wedding picture made me recall my sister's wedding in USA too.She had that same pausing with her husband during the wedding.Thanks for responding!

• United States
9 Nov 08
Our first wedding was only civil. Nothing really very grande. It was just me and my husband. BUT! I already have planned for our church wedding 3-5 years from now back in Philippines. I have planned what will be the wedding look like, the motif colors, what church, which hotel, etc. EVERYTHING! I wanted to have a fairytale church wedding. I want it simple but elegant.

• Philippines
9 Nov 08
oh yes,you can always make it simple but elegant to eliminate stress with all those preparations hahah.Most of us girls definitely would want a church wedding.Thank you for responding!

• United States
9 Nov 08
To me a wedding doesn't have to be in a church. My husband and I got married in our apartment by a justice of the peace and that was 36 years ago in Incirlik, Turkey. We had all our friends there and some of the co-workers. It was a beautiful wedding. Both myself and my husband were in the service. Then my son and his wife got married outside in the country. With just the trees and a beautiful little brook and the friends of both my son and his wife. Myself and my husband, her Mom and Dad and of course, the justice of the peace. It was absolutely beautiful.

• Philippines
9 Nov 08
beautiful and memorable wedding could be done anywhere,I believed so.I know others had their wedding while parachuting,under the sea,on top of a mountain,garden,beach,home..where else?For as long as there is love in the air,everything is so beautiful.Thank you for responding.Happy mylotting!