Planning my trip

United Kingdom
November 17, 2008 1:00pm CST
I am trying to decide where I will go in 2009. I live in a cold country and so I think it would be lovely to go somewhere in February to get some winter sunshine. I might like a dreamy time on a tropical island or an interesting time in a city. There are so many tropical islands to choose from. I have thought about Cape Town if I go to a city. Would you prefer a holiday on a tropical island? If so which one? or Would you prefer a vacation in a city? If so which one?
6 responses

• United States
19 Nov 08
You could combine the two and go to a big city where it is warm. Perhaps a large city like Miami, Florida would be nice. I don't think it would be as warm as a tropical island, but there would surely be a number of things to do. I myself would definitely like to go somewhere warm in the winter. I try to stay away from the cold parts of our country as often as possible. This year I am doing a better job of that than normal. I am not familiar with Cape Town, you have given me something to research! Thank you for starting this discussion, and have a great day!

• Philippines
19 Nov 08
Hi there Maximax8! Time to respond to this discussion you made again because I really find your topics interesting. I firmly believe that you love traveling, well that's good for you and I must say I envy you for that. I have this dream of traveling the whole world or just those nice places which most people consider tourist spots. I want to start here in our country Philippines but it's not yet the right time to do such travel because my baby is just a month and a half old. Besides my husband is working and his income is just enough for our monthly expenses. Anyway with regard to your question, I prefer to go to Guilin, China because that is where my husband always wanted to go. I didn't agree at first because I really wanted to go to Venice, Italy if given the first time chance to get out of my country. But when I saw pictures of Guilin, I think I want to go that place first before in Venice. He loves the place so much and he gave me links to check some pictures of that city. For me that place is like heaven because of the breath-taking scenarios. Anyway Cape Town is a populous place and I hope you'll enjoy your trip there next year in case your decision is final. The panoramic view of Central Cape Town is also breath-taking, I just finish checking the city and I found out that it's the most popular tourist spot in South Africa. Anyway let me wish you an advance Happy Trip!

• India
20 Nov 08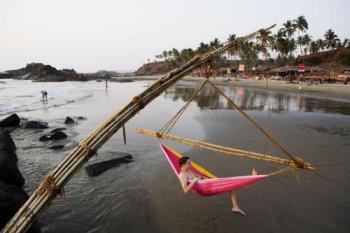 Hi Maximax, I have been to vacation to Hills before . Now;I am thinking of going to Goa;a Coastal beach Area in South-West India . It is very popular with US and European as well as Domestic Tourists . I found this interesting article on Goa: ""Introducing GoaThose who haven't visted Goa tend to imagine it as some kind of Indian Costa Brava but with more cosmic karma and, thanks to this image, many people vow never to set foot there. However, Goa, like everywhere in India, is never quite what you expect. In places the infamous hash-fuelled days of Goa's golden hippy years are still alive and kicking and in others the all-inclusive package holiday is king. But these are two very narrow sides of the Goan experience and anyone who spends much time here will discover that Goa contains more variety and vitality than almost anywhere else in India. Head into Panaji (Panjim), one of India's smallest and most likeable state capitals, and instead of self-contained tourist resorts and trinket-selling dreadlocks you'll discover a Portuguese pantry of flaking architectural delicacies spiced up with Indian exuberance. Inland, you can stand in greener-than-green fields picking vanilla pods or bathing with elephants. The main draws of Goa are, of course, the beaches, which are every bit as cliché beautiful as they're supposed to be, but just as much of an attraction is Goa's intriguing fusion of colonial Portugal and modern India. There is almost nowhere else in India where the influence of the former colonial overlords remains as strong as it does in Goa and it's not at all unusual to find crucifixes hanging on walls next to posters of Shiva and groups of elderly Goan men conversing in Portuguese. Goa may not be as cool as it once was but it's certainly just as magica Fast Facts about Goa * Main languages Konkani, Marathi, English and Hindi * Telephone code 0832 * Area 3701 sq km * Population 1.34 million * Capital Panaji (Panjim) * When to go October to March http://www.lonelyplanet.com/india/goa ""

• China
19 Nov 08
I also like sunshine,think when you in the seaboard,and there is good sunshine,then you listen to the music,what a good vision! If you have time,I wish you can come to China,and there are many interested places.and you can have Chinese food,it is delicious!


•
17 Nov 08
Well in easter next year we are off ot the seaside for the long weekend, I have just booked the guest house this week and the cattery for the cats. The neighbour will feed the guniea pigs as he never goes away at easter, he is too busy going to church. I'm already looking forward to the cooked breakfast and no cooking and washing up, and coming back to a warm room as we are having a family room for the five of us if it is cold. Normally we hire a caravan on a caraven park. We don't have passports so we always stay in the UK. I hope you find somewhere nice and warm to go... don't forget to keep us posted