End Of Evangelion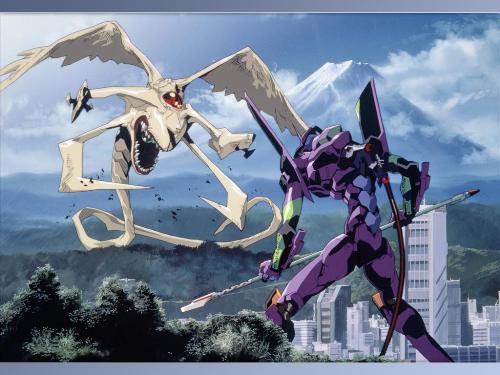 Czech Republic
November 17, 2008 4:17pm CST
Just finished watching it. It's great ending to the great series. I loved the battles, it was sweet to watch Asuka going berserk on those new Eva's. Instrumentality part was good but I still liked it better in the original episodes. My head hurts from all those quick flashes because I'm sitting in front of computer monitor and cable of my earphones isn't long enough to pull far from monitor. I understood pretty much everything except the last scene. I have some theories about that but I'm not really sure...I guess it can be interpreted in many ways. Hell, I'm already downloading Rebuild Of Evangelion. Is it good? How did you like End of Eva?
1 response

•
30 Nov 08
Personally I loved the Neon Genesis Evangelion series and movies. It was probably one of the first anime I watched all the way through.I pretty much liked the original ending which assessed the minds of the main protagonists individually. The end of movie was a more violent and controversial ending I thought but still pretty interesting.I haven't watched it in a while so I cant quite remember how it ended. I liked the intermission music, that's what I remember most about it and the AirII scene where Asuka slices and dices the new eva series just to ripped apart herself. I wasn't overly impressed by the first rebuild movie it didn't really show anything new just the first few episodes in better quality, they also got rid of quite a few iconic things which symbolized the 1990s like the stars on Shinji's sneakers were gone in the rebuild and we all remember the first scene when he walks into Misatos flat those star sneakers are legendary!

• Czech Republic
1 Dec 08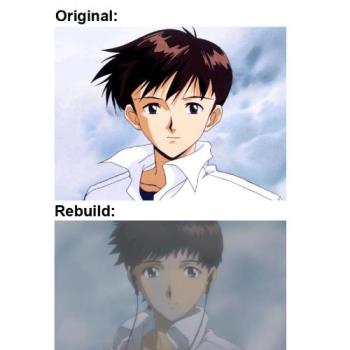 I didn't even noticed that stars are missing but some other things bothered me about rebuild. I didn't enjoy the fight with the first angel because it was too dark and only thing I could see was glowing unit 01. Actually whole coloring is darker and animation looks more realistic but I gotta admit I like the old style better. Just look at the picture below. But I like what they did with second angel (Ramiel). Those transformations were pretty cool.