Profile Visit.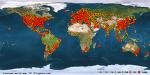 India
November 20, 2008 1:39am CST
How many people visit your profile page daily. Are you aware about that. Did you placed banner links in profile to attract the members as your referrals? I have placed many links of good sites.I have got many mylot members as my referrals for different sites.
4 responses

• United States
25 Nov 08
Hello josechukkiri! For two months, my profile has been viewed 429 times. I was not aware of it at first but as time goes by I then found it out. I never put any links or banner in my profile. I am not into many sites and mylot is my number 1 site.

• India
25 Nov 08
There is no harm if you are making money from the internet.So it is necessary to place some banners or links. This will increase the volume of overall activities.

• Shingle Springs, California
28 Nov 08
I have no banners but maybe I should put some up. I don't really pay attention to how many people visit my profile but if I had banners up, probably I would.