A hat-trick!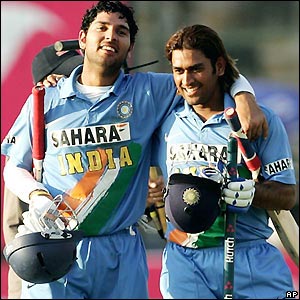 India
November 20, 2008 7:05am CST
Do you think that after winning the third match too, the moment is not too far when India will lift the Cup? India now needs only a win to seal the series. If India happens to win the next ODI and pocket the series, do you think, India will field some other players like Virat Kohli or Badrinath who haven't played in this series still? Congrats to India!
3 responses

•
20 Nov 08
I think it is a shame that bad light called a halt to today's game. If the English had managed to get another wicket it could of made things a bit more interesting. As for the series I definately think that India will win it, but England will manage to get 1 or 2 wins I feel.

• India
20 Nov 08
Frankly my friend right now I am not looking for a hat trick. I am a big fan and I would want india to win but then the series is getting too much one side. Plus the big factor is that if England bats first then the match is much more boring as we have to chase a very small total. I think they should raise the level of their game. They are playing like a hope less team and that is not something which we want as Indian fans. We want competition. We want our boys to play well and win the matches for us in testing conditions. So that we better prepare for the world cup. If this is what we are going to get, then how are we going to improve. I don't see any team matching the likes of our team now and that it will soon be a normal matter for us to win series after series. There will be a new news if we lose a match for a change. :P

• Jamaica
20 Nov 08
Hello, I am a West Indian who love watching India play. India will win the next ODI and i dont think they should change the team barring injury. I really want the Indians to humiliate the English 7-0 and go for the record most consecutive win. England just not good enough. Just the hype of the English media.