Goji juice wonders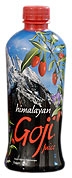 Philippines
November 20, 2008 8:35pm CST
I received and read this news about a new study and research how wonderful a red berry or Goji juice can do. Spare some minutes to read this news. A tiny red berry celebrated for its antioxidant qualities may also help protect against skin damage that leads to cancer, researchers believe. Scientists at the University of Sydney fed diluted juice from the goji berry to mice in the laboratory and found it protected them against the same sun damage as other mice when exposed to harsh UV rays. Another experiment showed skin cancer advanced slower in mice that had drunk goji juice. Cancer specialists have cautioned that while the berry, strong in antioxidant properties, appears to act like a sunscreen in mice, it is untested on humans. Goji juice has been the subject of bad press in recent years after tests by the Australian Consumer Association showed it was no more beneficial to health than standard fruit juices. Dr Vivienne Reeve, from the university's Faculty of Veterinary Science, told a medical research conference in Brisbane on Monday that she fed mice either water or diluted juice and then exposed them to UV radiation to give them sunburn."The goji berry-drinking mice had significantly less inflammation of the skin," said Dr Reeve, who is a scientific adviser to a company that distributes the juice."And the juice seemed to protect the immune system because they didn't get immuno-suppression which is a major risk factor for skin cancer development in chronically over-exposed skin."It also appeared to have protective properties against skin cancer growth, she said, with another experiment showing skin cancer-induced mice had significantly slower growing tumours."We haven't tested it on humans but this gives us every indication that we should if we want to help protect people from sun damage and disease," she said. Cancer Council Australia chief executive Professor Ian Olver said the research was interesting but should be viewed with caution."Just because it works like sunscreen in mice does not mean it will do the same in humans as the two types of skin are very different," Prof Olver said. Note: For inquiries about the product, visit my website http://mdlagac.freelife.com
2 responses

• United States
21 Nov 08
There are so many great fruits like goji, acai, even blueberries that have great health benefits. Yes, many of them are very expensive, especially when you buy organic, but I think it's much better to spend the money now and do what you can to prevent some of the illnesses and diseases, then to spend it later on the medical community.

• Philippines
29 Jan 09
That is so true. The price is reasonable because the product has many health benefits. It is only the juice that has an element to prevent cancer. Besides, the Company manufacturing Goji or Gochi is helping a foundation and a percentage of the price goes for charity purpose. Thank you for responding.

• Australia
21 Nov 08
I think this is the same stuff that a friend of mine used to sell in her healthfood shop, it was very popular but so very expensive..all these things are well worth looking in to as I am a firm believer of carrot/beetroot/ginger juice...