Do talk to your dags as if ...

Philippines
November 25, 2008 1:33am CST
It will talk back? Well I have a dog his name is Kidlat, he has this puppy eyes that makes you think hes always begging. Although his already 7 years old I usually baby talk him. Like when his hungry or when his feeling lazy and dont want to play with me. I spend most of my time in the living room. My art stuff, office work, articles etc. that often finish late. And my only companion is Kidlat. So although there's a music background, his watching me work then I would talk to him, and he was like looking at you as if he understood.. have you felt as if your pet really can understand you?
3 responses

• United States
25 Nov 08
I talk to my dog all the time. Just as if she is my friend. I tell her about my bad day when I have one. She is so cute because she will tilt her head from side to side and act like she understands every word I am saying and is intently listening.

• Philippines
25 Nov 08
They are actually a good shock absorber. And more importantly loyal.. Thanks for the reply..

• India
25 Nov 08
Hy Maggii...sure i agree with your saying..eventhough our dogs dont talk back in the same language like us but yes they are much more capable in expressing there love , anger, happiness better than human beings . They understand every move of us , they react back to actions that we make with our eyes . They know when to play with you, cuddle up with you, go out playing with you.......they simply know when you want to be alone and when you need them for a slient love n affection in the hard times. I simply think my dog knows me better than anybody else..and i know he loves me unconditionaly eventhough he cant talk like i talk with him.

• Philippines
25 Nov 08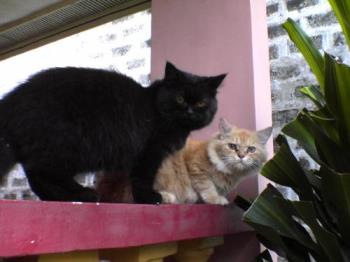 I don't pet a dog anymore but I have two persian cats..HOnestly I talk to them as if they are my children.I named the black persian as Fifi and the orange cat as Garfield.I normally talk to Garfield because he is the most responsive creature than Fifi.