MyLotters Happy Thanksgiving.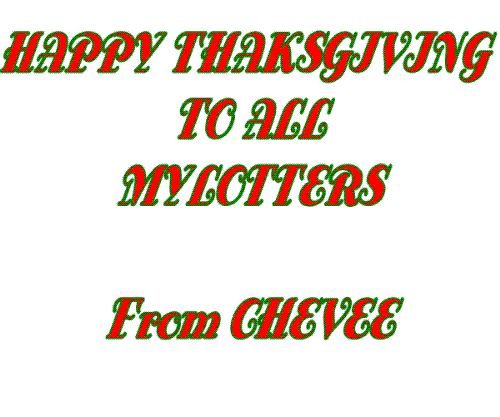 United States
November 27, 2008 8:38am CST
I am wishing all MyLotters a very Happy Thanksgiving, I am thankful for a lot of things and you all are on that list. I want to wish you all a very successful life and great rewards in the coming New Year. I am thankful for being a part of this wonderful group of people. Go Out and enjoy your day to the fullliest, the ones that are staying home alone. Just be thankful that you have a home to stay. There is a lot of negative reactions in this world today just think of the positive today and God Bless us all. [i]PS. I am not a public speaker, So I hope this is fine. [/i] Have a Wonderful Day Your MyLot friend Chevee.
1 response

• United States
27 Nov 08
Thank you Chevee, that was said very well. Happy Thanksgiving to you too. We will be going to my sister in-laws for the afternoon. I'm not sure how many people will be there and am a bit nervous. I am thankful for so much this year as well...found out Tuesday, that my husbands cancer is being helped by the chemotherapy. I am thankful for all the little things in life as well. We are truely blessed. God Bless you as well and again Happy Thanksgiving.