Where is the splendid SUNS?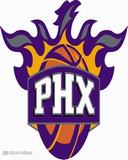 China
November 28, 2008 8:01am CST
I am a crazy fun of Phoenix Suns,also,Steve Nash,is one of my favourite basketball stars. Few years ago,when I was in high school,I watched a match between Phoenix Suns vs L.A. Lakers.At then,Shaq was still a Lakers' player,the "OK" were absolutely the strongest pair in NBA.But,when I finished enjoying the match,when I saw the perfect acts of Suns,when I saw their unbelievable speed and passes,I knew,I love this team,frantically. From then on,I kept on watching their matches as long as I got time.I love their style,skills,speed,almost everything about them .I had never been like this, to a team,before, I guess I would be so crazy about them all due to their performance gave me one thing, the best thing in the world I believe, PASSION. It made me exciting and happy. I enjoyed the feeling very much. However, as time went by, Suns changed their players as well as their style. They slowed down. Some people probably say that the Phoenix Suns have to because of their style is not for a championship.In order to get a NBA champion, they should change to fit. They may right, but this made me sad. Though the matches between Suns and other teams are still excellent, they give me less passion. There are more field goals, more slum dunks, more teamwork, at the same time, there are less three points shoots, less perfect passes, less fast breaks. At last, I should wish the Suns will have good luck, at all, they really need a NBA champion.
2 responses

• Philippines
7 Dec 08
Dude, why is the Suns not reached NBA champion last year even with the presence of Shaq?. Well, I think, Shaq is too old to go and to slow. But the team still has the capacity to become a champion. It might be coaching problems but the skill of the players is there. Well, lets just see them how they perform in this season. I still had trust in them and good luck.

• Philippines
29 Nov 08
With Shaq being one of the focal points of offense for the Suns, Steve Nash would no longer put up the same numbers that he did during his MVP years. He's no longer among the leaders in assists unlike before when they were running up and down the floor everytime. True, they never won a championship, but considering that they are not really improved as they say they are in terms of defense, I'm pretty sure they are just doing a double take as to why they risked trading for Shaquille O'Neal. He's putting up good numbers, but Steve Nash looks ordinary now.