Black Friday Madness!!!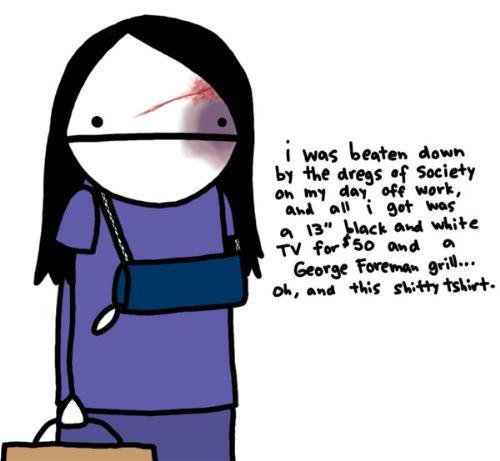 United States
November 28, 2008 11:58pm CST
Has anyone stood in line before for black friday and got something they really wanted and/or didn't get what they wanted? Whats the most you spent during this time at the store?
1 response

• United States
29 Nov 08
I went out yesterday for the black friday specials... I found one, and the other one was sold out. I got some radios half priced and I bought a lot so that i could give them out for christmas. I have a story about a friend of mine that actually camped out one thanksgiving to get a big screen television. when the store opened she and her husband ran to the TV's just in time to get the last one. Her husband turned around and was punched in the face. The man that punched him, had also camped out, and claimed he had been there an hour before my friend so he deserved the TV. It turned into a fist fight. While the men were duking it out, she pushed the TV up front and bought it. I'm happy for her, but kind of sorry for the guy that camped out only to get a couple of black eyes for his trouble.

• United States
30 Nov 08
WoW, people can go crazy sometimes, lol. fighting for a TV, thats just mad. it is just material isn't it, lol. yeah some people can do some crazy things. sorry to hear you were not able to get the item that you wanted. I had went my local wal-mart a few times, with my mother and it was crazy the way people just run into the stores like that for things. pushing and shoving, lol. well I guess you have to do what you have to do to get the best deals. I don't recommending to fight over things, if you don't get anything well there is always next year, right. lol, thanks for replying glords ^^