What is your favorite Firefox Plugins or Addons?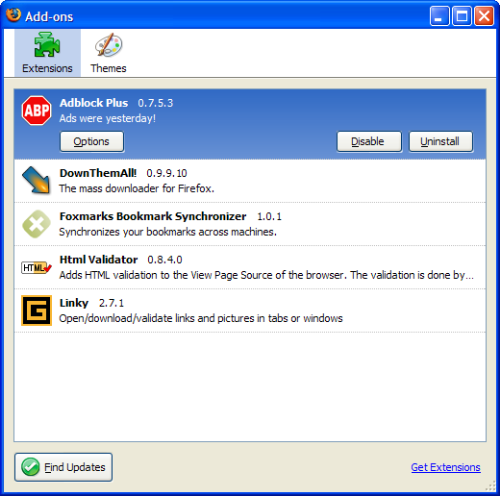 Philippines
November 29, 2008 9:48am CST
I've been using Firefox for almost two years and it has become my favorite browser. I have many plugins/addons installed in it.

I used to download videos from Youtube so I have also a favorite plugin for this.

How about you guys, what is your favorite Firefox plugins or addons?

2 responses


• United States
29 Nov 08
I have been using Firefox for about that time too and agree in that it is my favorite too. I used to have around 20 addons, but then realized they were making Firefox slow, so I've had to hold back and uninstall some. :D My favorites: Morning Coffee- Keeps track of daily routine websites and opens them in tabs Consciousness Bell - Plays a Tibetan bowl chime at random intervals to evoke mindfulness - I have always found this one calming when I just stop whatever I'm doing just for a second and think. Read it later - instead of clogging up bookmarks when you find random sites you'd like to read, you can just mark it to read later.