Does your stomach ache after you eat lunch or dinner??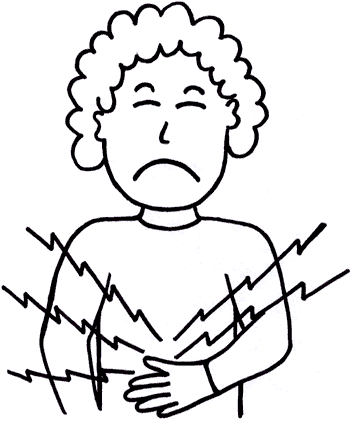 Philippines
December 2, 2008 11:18pm CST
Almost everyday I'm having problem with my stomach.. After I ate lunch my stomach will start feeling uneasy.. It is really painful as if I want to poo but I don't.. I really hate when my stomach really hurt because it is very disturbing especially if I'm in the office.. I don't know why my stomach is like this.. Is there something wrong with my stomach?? Do you know why my stomach ache?? Does this happen also to you?? Any ideas, please!
6 responses

• United States
31 Jul 09
Hi, I am 14 and this stuff started happening to me last year. It really hurt and no matter what I did, or ate I would have stomach problems. Well, I went to a doctor and had a scope done. When the results came I found out I had acid Reflux and gastritis. I have been taking medicine for about a year and it doesnt seem to help. You'll really have to wtach what you eat. I can't eat anything greasy, spicey, or something that had preservitives. Like on lettuce in restuarants, I can't eat that. Tell your doctor about these ideas, because it may be this.

• Philippines
11 Sep 09
Oh, I'm so sorry to hear that. Well, with my previous check-up, my doctor told me that I need to eat on time since I have an ulcer. I know that this kind of illness is not good. I'm trying my best to eat on time and to follow all the doctors advice. I hope our suffering will be healed soon because having this kind of illness isn't really nice since there are so many things that we like to eat but its not good for us. Anyways, thanks for sharing..


•
19 Dec 08
Your best bet is to go to the drs he/she would have more of an idew what it is and be able to help you, as that isn''t right especially if it happens everyday...littleowl

• United States
8 Dec 08
A month or so ago, I started learning portion control. I've learned to have 1-cup servings. My body is used to it now and if I eat anymore than the one cup serving I get really bad stomach cramps and can't go to the bathroom. The other day we had to stop at a burger place and I ate 2 burgers...one would have been more than enough but I ate the second anyways and the rest of the day I was in pain. I couldn't bend over, couldn't sit and I was miserable. I came home and tried and tried to go to the bathroom and couldn't. I finally took a double dose of Pepto and got to go to the bathroom. After that I was fine. It taught me that I need to stay with what I'm used to and not over do it. [b]MERRY CHRISTMAS!!! ~~AT PEACE WITHIN~~ **STAND STRONG AND TRUST IN GOD**[/b]

• Philippines
9 Dec 08
Well, I don't have some daily habit in eating foods so I really don't know what will be the possible cause of my stomach ache. As for you, you know the reason behind it and its just you who can control it.. Try to control eating so many foods since you know that eating too much can make your stomach aches.. I know that we can't help our self to eat so much especially if those foods are our favorites but since you've know what would happen after you've done that then maybe think about it already.. So, try to avoid eating so much food..

Anyway, thanks for sharing!

• United States
3 Dec 08
Every morning my stomach bothers me. If I eat milk and cereal for breakfast, or anything sweet, it upsets my stomach. Maybe it's something that you're eating. When I begin working again, I will not ba able to eat anything sweet, or drink milk or anything sweet, because I know shortly thereafter my stomach will begin to bother me again.

• Malaysia
3 Dec 08
Hi Kissie, I would suggest that you see a doctor about your stomach, if the pain persists. It seems like a daily problem - is it only after lunch? What about dinner? If it's only after lunch, then it could be the food you're having for lunch. Whatever it is, it's best to find out why. Take care!

• Malaysia
3 Dec 08
maybe you eat something too hot or cold..or maybe the food you eat, your stomach cant accept it..