Have you ever been on Television?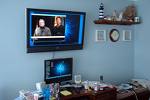 India
December 6, 2008 1:12pm CST
How much I wish to be seen atleast once on a Television... No matter for whatever role or good reason I wish to see myself atleast once... I guess no one from my family has been on television ever except for my elder brother who had once gone on a singing show in which our neighbour was a participant... It was many years backk.. I missed that opportunity.. What abt you? have you ever been on television?
2 responses

• United States
7 Dec 08
I have never been on television but It would be neat. Well i've been on television if you count my moms home movies that she makes and then pops in the VCR. lol.

• United States
6 Dec 08
My whole family was on the news when I was about seven. We were on there to talk about a bone marrow transplant for my dad. I still have the tape from when I was on there. I was also on about a year ago but they were just doing some coverage of my work place so I wasn't talking or anything. You could just see me in the background but it was still neat.