Do you attend Christmas Parades?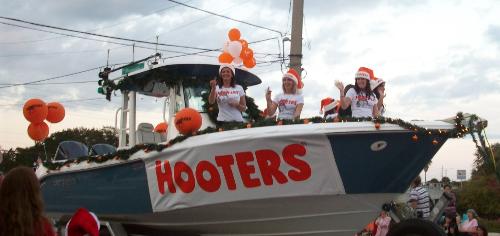 United States
December 10, 2008 9:35am CST
Every year we attend our local parades. This year we have been to 2 so far, a regular parade and a boat parade. We are going to two more this weekend, we do not usually do so many but my sister is in them this year. MY son loves to watch the parade and collect candy. I think they are kinda cool, you can see the creativity of all the shops and schools. They get so crowded specially when there are several kids running for candy at the same time. Anyways I love the parade it just means Christmas is almost here. Tell me about your local parade! Do you go every year?
2 responses

• United States
10 Dec 08
I live in Quincy MA which has the largest Christmas parade on the East Coast. Every year, it is always held the Sunday after Thanksgiving. I used to march in the parade for an American Legion Post color guard, it was actually a lot of fun. I'm no longer a member (long story) so I don't march. This year I would have gone, but it was cold and raining. But, the parade itself is great. Bands from MA actually have to compete to march in the parade. Bands are so small these days, but I remember as a kids, the police having to push the crowds back to be sure there was enough room for the marching bands to pass. The do awards for best floats, bands, etc.... And, Santa is always at the end of the parade. Years ago, he used to always be on a ladder truck from the fire department. Now they have a float with a sleigh. It is really a great parade, you should add it to your list to visit Boston next Thanksgiving day weekend. Merry Christmas.

• United States
10 Dec 08
wow I would love to go to Boston shoot I would love to see a parade when its not 80 degrees out...lol... That parade sounds wonderful....

• United States
10 Dec 08
The best memories of the parade that I love is when it lightly snows. There is nothing more beautiful than listeing to "sleigh bells" and "jingle bells" and "Let It Snow" being performed by the bands when it is snowing during the parade. You should definately put it on your list. Quincy is only about 12 minutes south of Boston.

• United States
10 Dec 08
We occasionally attend the Christmas parade. We wanted to go this year but then my husband had surgery and developed some complications... seems there is always something. Anyhow, yes, I love the parades and although it was very cold here this year on the day of the parade people said it was a very good one.

• United States
10 Dec 08
wow so sorry to hear about your husband I hope he recovers in time for Christmas.. thank you for responding.