Should seventeen year-olds be allowed to have a baby??

Pakistan
November 8, 2006 8:15am CST
I think they should wait at least till twenty...they're just not mature enough at 17 or 18! what do u think..??
5 responses


• India
8 Nov 06
no they r not mature enough.they wud also have financial problems.the health is also affected.strictly NO

• Canada
9 Nov 06
I don't think that a seventeen year old girl should have a baby. That is too young of an age to have one. They are still in high school and are not finacially able to support the child. But if they are having a child at that age, it is their decision and it is not right for us to enforce a law to ban it.

• United States
9 Nov 06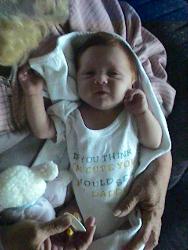 A good idea for a 17 or 18 year old to have a baby, absolutely not!But OK..if you argue that they should not be ALLOWED to have a baby because of their age...well what happens when next it is, well this one shouldn't be allowed to have a child because they don't have the right hair color, or the right skin color etc... MANY things we have to deal with in this life may not happen in the most ideal way (I doubt many 17 yr old's who get pregnant were actually setting out with that as their intent) but when you start allowing a governing body to dictate your personal freedom's, your also asking to forfeit those freedom's. "When the Nazis came for the communists, I remained silent;I was not a communist. When they locked up the social democrats, I remained silent;I was not a social democrat. When they came for the trade unionists, I did not speak out;I was not a trade unionist. When they came for me, there was no one left to speak out" - Martin Niemöller

• Philippines
8 Nov 06
I disagree to seventeen year-olds to being allowed to have a baby. You must be finacially stable first to become a responsible parent.