do you like Jamaican patties?

Philippines
December 12, 2008 1:41am CST
I like beef original, beefy tomato and cheezy beef. Sometimes I get beef express. It is medium spicy and with tomato sauce. I have not tried their chicken patties yet. I tried ordering for chicken stew one time but it is not available. How about you, what flavor do you like most?
2 responses

• Philippines
12 Dec 08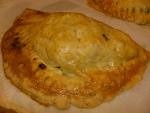 This is so perfect for me! I'm proud to be the first to post in here. Haha! I don't like Jamaican Patties...I LOVE jamaican patties!

I have this one to two times a week!! I always buy at de original Jamaican patties, ya man!!

My favorite is the cheesy beef pinatubo! If it's not available at the foodcourt of Trinoma, i will go up to the 3rd floor near the cinema to buy it LOL!! I go for beef pinatubo, beef and mushroom, cheesy beef also! I tried chicken pattie once. And you're right ordering chicken stew one time was a failure also, not available anymore. Then i will ask for extra hot sauce. LOL!

Tomorrow, it's weekend, for sure i'll go and get my favorite jamaican patties again!

• Philippines
12 Dec 08
Let me try that for tomorrow, cheesy beef tomato!! sounds really good!

When i'm with my bf buying jamaican patties the ratio is always 3:2, 3 beef pinatubo for him and 2 cheesy beef for me. LOL!! Good to go with a 1.5 litre of coke! Oh my! diet diet! haha!