smoking is not good.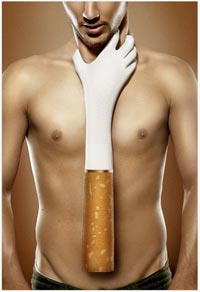 Nepal
December 12, 2008 1:50pm CST
What do you think about smoking? How do you feel if you see someone smoking and talking with smoke all around him and cloud of smoke surrounding him or her.Every time coughing and then taking again and again with same piece of stick in his or her mouth. Bullet kills one time but smoking killing each person/single person every minute and every second like god is punishing him without taking his life. you trap filter of cigrattee/cigar in your mouth but actually cigrate is traping your neck and lungs faster and tighter than you trap in your mouth. you can see it in photo what i really mean to say. IT shows cigrate is wiser and bold than you.So keep low your piping behavour and increase your lungs/respiratory system.
2 responses

•
13 Dec 08
Whilst smoking may be a bad habit and one that doesnt smell so nice it is up to an individual what habits he or she decides to take up....noone else. If someone wants to cause themselves health problems by smoking or drinking or not exercising or eating the wrong foods whos business is it other than their own? We have also been fed all this false information about second hand smoke killing us all and causing untold amounts of troubles.....it just isnt true. I dont want someone smoking next to me because I dont want to smell it or have me smell of it when I leave....not because I think its going to cause me serious health problems, because lets face it, it isnt. Someone can smoke all their life and not have ill effects....so what is the chance of a non smoker having ill effects from that smoker? Virtually 0. It is also ridiculous that here in the UK they have banned smoking in every public place. Utterly stupid idea which has ripped the heart out of 100's of towns and villages with the closure of many pubs and with it, a loss of many jobs. Where I live I can walk to 7 fantastic little pubs..... which were surviving on the old man having his pint and a smoke.....that have now closed down. Its such a shame. And many pubs still open are reporting a loss of turnover and a lack of atmosphere....Im not surprised. Im a nonsmoker, but I wont go to a pub now.

• Canada
20 Dec 08
Smoking is a very bad habit and I do not like those who smoke. People should quit smoking.