Open eyes sleeping,,,,Will u do that?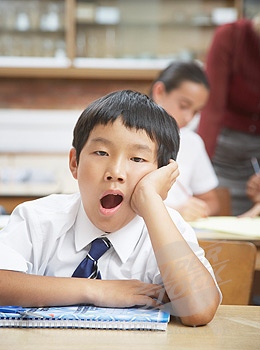 India
December 18, 2008 12:09pm CST
Many dooo this:):),,I think during their student life while listening to lecture in class,,,,And one another thing is in office and in many more situations. I do this when ever I feel lecture is boring in class. So friends will u do this and have nice nap,,?:)
6 responses

• China
19 Dec 08
hi, sindhu! i did it quite couples of times during my school life, from the elementary to college...

i am not the best of doing this though..because i will close my eyes soon if i fall asleep..however, my college professors are mostly kind to let students sleep in the class if they feel the lecture is kinda boring..so sometimes we will choose sitting at the back of room and bend over the desk for sleeping...lol

• India
18 Dec 08
Normally i don't use too...but sometime without knowing my knowledge i had done in college and school days after lunch hour i use to sleep opening my eyes..and got scolding from my masters too..and i have seen many of my friends do that i use to laugh at them.. but feel when i use too they laugh at me....:)

• India
19 Dec 08
Yaa Its normal thing when our frnds do that we laugh at them and One time we will be at that situation,,,But a friend of mine darely sleeps with full eyes closed in front of lectures ,,from back we used to watch her and laughed at her many timess,,She cant resist sleepingg,,,Lol...

• Philippines
18 Dec 08
What??? Could you please tell me how it is done cause i can't imagine myself sleeping with open eyes. Whenever I'm bored during lecture (that was when I was still a student) I daydream of things that i want to achieve in life.

• China
19 Dec 08
wow, it is too dificult for me to do that. I think I will never do that. can you. I can't sleep in class. lol happy mylotting.


• Singapore
19 Dec 08
I have not done any open eyes sleeping during my school days.. lol =D If i wanna take a nap, i will just place my books at a standing position and hide my head behind the book.. lol =D IN a way, i need my frenz help to wake me up whenever the teacher called me, or walking towards me.. hehe I wonder how do ple sleep with their eyes open?? UNless, they can do some drawing on the eyelids?? lol