Is there anything out there?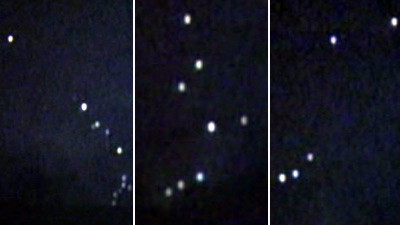 December 19, 2008 2:08pm CST
Last night there was a report of UFO sighting in the westmidlands, UK. there were 70 brightly coloured lights seen moving across the sky (check out the picture). There were said to be absolutely silent, and were moving much faster than a regular aircraft. Do you believe in Aliens, or do you think that this is a hoax, or some other reasonable explanation?
2 responses

• Lancaster, New Hampshire
7 Jan 09
I'll tell you exactly what you saw. Discovered these little gems last week. http://www.theskylantern.com/info/Pictures_Sky_Lanterns.html They're called skylanterns. I think these can explain a lot of night time lights that are called in as ufo's. They can float silently in still air then a gust comes up aloft that we don't feel on the ground and blows it sideways, their pretty light made mostly of tissue type paper so they're subject to the will of the upper level winds. Then when the candle burns out they "disapear" or drop slowly as the candle dwindles and it loses the hot air thats keeping it up.

• Philippines
6 Jan 09
I honestly think if you see something out there it must be real otherwise it could just be a mirage but if it were true and i believe it is then it could be aliens from outer space, time traveler, a secret military spacecraft of aircraft, an ancient advance human civilization or interdimensional beings. the point is there are millions of possibilities out there to explore but we need solid evidence that would tell us. ah its real.