Will you try your luck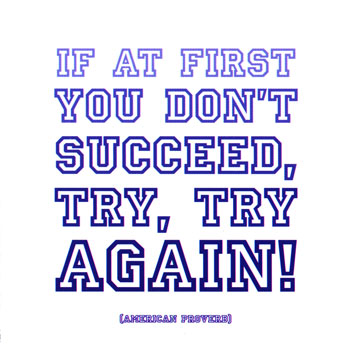 Sri Lanka
December 21, 2008 1:12pm CST
Will you try to do something that all others who tried on it faced failure in it with none succeeding. For example a particular business. Will you go ahead and try your luck or would you search for an alternate.
3 responses

• India
22 Dec 08
I have tried a lot my luck but every time I got faliure so I don't belive in luck , I am not saying that luck doesn't exist but for me it doesn't have any value so I am only try to do something on the based of my hard work only thanks & happymylotting

• United States
21 Dec 08
I don't let others people mistakes keep me from doing things. I just watch and learn from the mistakes. I know a lot of people who have failed to keep restaurants open. They've tried multiple times, but they always end up going out of business. But, I saw the mistakes they made, so if I decided to open a restaurant, I would do things differently.

• India
21 Dec 08
I would not get into it just to prove my heroism that i will succeed where everyone else has failed,but would study that business model.if i am convinced it has nothing to do with it being bad will definitely give it a try notwithstanding other people's failure or success.I would judge myself if i could do it and that business suits me. or not.