Putting Clothes on Dogs....Do you Like To Dress Up Your Dog?

United States
December 26, 2008 3:46am CST
Making your dog as cute as it can be is a very enjoyable and fun task. It is sort of like how we use to play dress up with our dolls as kids. Dressing our dogs can be just as much, if not more, enjoyable. There are dog clothes in just about every style and color you can imagine. Do you have clothes and accessories that match your dog's clothes and accessories?I am wondering also, does anyone have a special closet just for their dog's clothes?As long as the clothing is not restrictive to the dog, most dogs don't mind getting dressed up now and then. Don't you agree?I think dogs get a kick out of their owners fussing over them and dressing them up. It is like receiving extra attention. What do you think?Have you seen all the special dog boutiques popping up all over the internet? I know there is one called Glamour Dog and Designer Dog Fashions. Does anyone know of a dog boutique on the internet? Just give me the name here and not the entire link, I can google it and find it.
4 responses

• United States
26 Dec 08
I have tried dressing my dog up but she wants no part of it.Anything we put on her she chews and paws at until she gets it off. So I gave up. But I would love to dress her up if she would only let me.

• Philippines
27 Dec 08
Hello fairydew. I enjoy putting clothes on my dog. I find it very cute. My dog appreciates me putting clothes on her. Recently, I havent bought any new clothes for her because I couldnt afford dog clothes. I just look for old clothes that could fit her.

• United States
26 Dec 08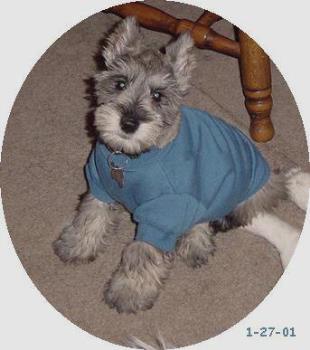 Hi my friend

Yes, as you can see by my photo, I've been known to dress my two little boy dogs up.

I don't know whether they love it or not, but they put up with it. My other schnauzer, Fritz, I have pajamas for that I put on him when it's realy cold out. He really looks cute!! Happy MyLotting! Char