Mother Teresa


United States
November 8, 2006 4:08pm CST
Write your opinion about Mother teresa
5 responses

• United States
8 Nov 06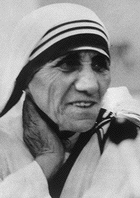 Mother Teresa devote herself to working among the poorest of the poor in the slums of Calcutta. Although she had no funds, she depended on Divine Providence, and started an open-air school for slum children. Soon she was joined by voluntary helpers, and financial support was also forthcoming. This made it possible for her to extend the scope of her work.One of the greatest women to help man kind!

• India
8 Nov 06

Mother terasa worked in the slums of Culcutta,India. She devoted her life for the poor,the downtrodden and the oppressed. She won the Nobel prize for peace.She was very peaceful and quite.She loved the poor for Jesus.Later she was declared as a saint by the catholic church. She followed the teachings of Christ in her life and she will be remembered.


• United States
26 Dec 06
SHE IS VERY NICE PERSON , SHE DID SOCIALCOMMUNITY

• India
14 Nov 06
Mother Teresa is greatest soul of all times. She rendered selfless service to the cause of suffering people in Calcutta. She is the one who opted to work in India. Her service will be remembered for ever.

• Germany
13 Nov 06
with my meagre knowledge about her i will say that she spend her life for a noble cause