Abortion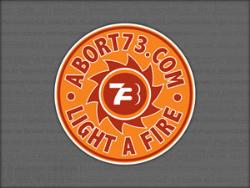 United States
5 responses

• Philippines
9 Nov 06
i watched the documentary and it just made me cry. when do you think life begins? for me, we must assume that life is already beginning at the time of SI.

• United States
9 Nov 06
Thank you so much for going to the site. I know it is unbelievably hard to watch and to think about. But it is the truth and we need to know what is really happening every day. Abortions are taking place in phenomenal numbers, 25,000 a week! That's 25 THOUSAND babies that are mutilated and murdered every week - LEGALLY! People just don't know what is happening. If we don't seek out the information for ourselves, we do not know the truth. Please direct as many people as you can to the Abort73 website, so we can get the word out! We cannot sit and do nothing. We must take action and educate others or more babies will continue to be slaughtered every day. The blood is on OUR hands, if we do nothing to stop it!

• United States
9 Nov 06
This looks awesome, thank you for sharing! I will definately help spread awareness of this site. Each life is precious and needs to be protected from conception on. And looking at this, they support my college thesis in the idea that there have been groups previously qualified as non-persons under the law. HA! So there, Professor Smith!

• India
9 Nov 06
Abortion is really disgusting. I really have no comments on this. but i surely feel it is one of the most crulest think ever.


• United States
12 Sep 07
I respect your right to feel however you wish about abortion, to never have one and to voice how wrong you think they are- however, abort73 is NOT an accurate website. While repeating over & over again that there are 'risks' in abortions, they fail to offer proof. While claiming to show accurate photos, they intentionally mislead the fetal age. Doctors & medical personal in the US use gestational age to count how far along a pregnancy is. Gestational age begins on the 1st day of a woman's last period. Depending on the woman & the length of her cycles there are typically 2-3 weeks BEFORE (rarely but sometimes even more) conception included in counting the length of the pregnancy. Abort73 uses "weeks since conception". Although it does say that's what it's using, and I'll give them credit for not lying about that- they don't explain how that's different. Pregnancies develop by leaps & bounds each day. That is why even most people who support choice, also feel it should be done as soon as possible. The first/earlies picture they show is of what they identify as a '7 week old fetus'. In reality that fetus is between 9-10 gestational weeks, much closer to the end of the 1st trimester than it is to the middle as abort73 would lead you to believe.