I sewed another top!!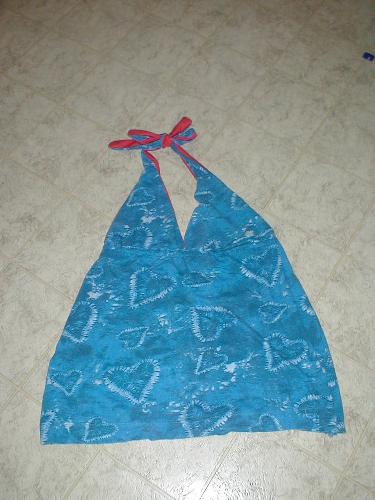 United States
January 5, 2009 4:49pm CST
I am on a roll, I just got through sewing a halter top that I made from a vintage 1970's pattern that I got from the Goodwill. This was easy. I am going to make a bunch more in different prints. I love it. This had a pants pattern with it for a outfit. I am going to make them when I can get some white fabric that I like. This halter only took me about an hour to sew up!!
3 responses

• United States
5 Jan 09
Oh my GOSH

You are so talented here. That is such a beautiful top. I wish I could sew just as good as you. The only thing I can sew is pillow cases...

. You know what you should start an online business for those. I would so [b][/b]Buy them if you started on up. That is some beautiful work you do. When I looked at it I was just at a wow moment. Did you go to school learn to sew stuff like that? Man I wish I knew how to sew better because I so would love to make these for myself. Great work keep up the great work on making halter tops.

Happy Mylotting

• United States
5 Jan 09
Thank you so much !!! No I did not go to school to learn, my mom gave me a sewing machine last year and I have just taught myself. I think sewing must be in my blood though, because my whole family sews and when I was a kid my mom used to sew all of my clothes and hers.

• United States
6 Jan 09
That is just awesome. I still think you should think about opening an online store for the stuff you sew. If you ever do decide to open one let me know so I can buy stuff....lol


• United States
20 Jan 09
Yeah !! It is to cold to go out side and I hate winter so what better way to get over it being cold--- make summer clothes!!!!

• United States
9 Dec 11
i like this halter top alot it looks like something that i would be able to wear to work and i just love that blue color i really like vintage patterns you can always do so much with them you can make them look really vintage or you can make them look more modern goodwill is a good place to be buying patterns from because they are usually really cheap there i think alot of different prints would look nice that way you can have variety and tops that will match anything you will also be able to get really good at making them