British couple has black and white twins twice!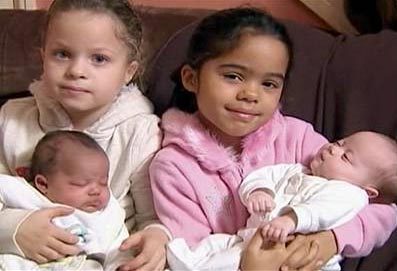 India
January 7, 2009 3:57pm CST
Believe it or not, a british wife has given birth to twins for the second time. This is not the news. The astonishing news is that, the twins she has given birth, are of mixed race. That means one is black and one is white! When she had given birth to her first twin, one was black and one was white. Interesting news is that, she has given birth to another twins....and again, one is black and one is white! What a rare happening! This type of happening cannot be heard once in a hundred years. The couple is really lucky, they have got twins of both race. This news has been published in many newspapers. Bellow is the image with four siblings in it.
7 responses

• United States
7 Jan 09
Hello Little_Boy! Wow! I just heard this story. It was really shocking and amazing. I could that happen? I don't know that it is possible. If they are both white then how come they got a black child? I don't really understand. Or maybe they have black ancestors. That's the only explanation I can say.

• India
8 Jan 09
aisaellis, you there! I thought you've gone into hibernation! Anyway, thanks for your comment. I pray to the almighty so that He awards you with two sets of twins of mixed color.


• United States
8 Jan 09
Hello Little_Boy! Yes, I'm back! I just got back from Christmas vacation.

• United States
7 Jan 09
Sounds incredible if you ask me. I agree they are lucky to have two sets of twins, but unless they have black decendants, I suspect something is terribly wrong. I hope they did blood tests on the first set, and do the same on the second set to prove they are theirs.

• India
7 Jan 09
Some thing wrong?
Ha ha ha, ho ho ho



Well said! But don't tell this to the husband of that lady!

• United Kingdom
11 Jan 09
I am amazed and I think the lady is very lucky indeed to have two sets of twins in which one is white and one is black. If a white lady marries a black man and they have a baby he or she would be mixed race and have a fairly dark skin. I think black skin is beautiful. It is rare for a pair of twins to be two different colors once let alone twice. Wow! My friend has twin boys, white and she is currently expecting another set of twin boys, white I imagine.


• India
8 Jan 09
Really it's a amazing news.How it can be possible!In Indian sub cotinent it's possible .Because the people of this region are of mixed race.It may be the British couple's one the husband or wife's forefathers were of blck race.Because of inherit gene the British couple got twice twins of both race.It may be or may not be.It's just hypothetical.

• United States
8 Jan 09
That is very amazing and I am sure they are proud. The skin tone of the children are very beautiful.

• Philippines
7 Jan 09
I saw this news in the television and I find it very interesting. They are so cute and the couple are really lucky to have twins with both race. I mean, what is really interesting more is that they have two set of twins, I myself wanted to have twins also, and this couple just got what I always wanted in my life.

• Ireland
7 Jan 09
I believe it because my husband saw the news and said the same thing. they're quite lucky to have two sets of twins with both having one of each race. happy posting!