Pictures/Paintings in the Bathroom?

United States
January 8, 2009 6:33pm CST
Our bathroom is white and we have a couple of pictures in frames on the wall. The pictures are just something simple like floral and scenery. I like to have some kind of pictures in the bathroom because I think it ads some character and color to the bathroom. How about you?
8 responses

• China
9 Jan 09

Hello Shar. I don't have pictures in the bathroom, but I have some glittering stars and a moon on the tile wall, which are made of plastic. They glitter in the dark when the bulb in the bathroom is turned on giving some light to them. I love to see them glittering in the dark when I turn off the light. So beautiful.

• Canada
9 Jan 09
I do like some pictures in the bathroom but not many. I prefer a print and behind glass in a frame due to the moisture. I have a beautiful framed print of a photograph of trees, a waterfall and a rainbow so magnificently placed, it looks truly majestic and suits the bathroom perfectly. I also have a picture of a couple of tigers and a picture of a yellow lab puppy. My bathroom is small so this is enough pictures for me. I have always like mirrors in the bathroom. This effect really opens the room up and if there is a window in your bathroom, it can add more light from the reflection.

• United States
9 Jan 09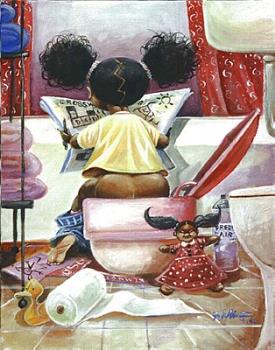 Well I don't have much room for the one lone floral one in there now I believe. but I wanted to put up these two seperate little kids in the bathroom deal pics. They always get a chuckle outta me. The little girl is reading the paper and the little boy is doing crossword puzzles.

• United States
9 Jan 09
hi shar! well, we have 3 bathrooms in our home. one is downstairs off of the kitchen and is just a half-bath. my hubby had it decorated the way it is before i moved in (he bought the house before i met him). it is painted a royal blue and has a few small america-themed pictures, like an eagle with the flag behind it, etc. it's ok, but we are redoing it soon and i will most likely change it to something a bit more feminine. lol our upstairs master bathroom is done in a palm tree theme. i copied the idea off my mother-in-law. lol our last bathroom is also a full bath, but it is not really done in anything right now. we really don't use it so i have not done much with it right now. it will probably be the kid's bathroom when they get old enough to use it.

• United States
9 Jan 09
i have pictures in my bathroom.they are some of my favorites out of a collection of silhouettes.

• United States
9 Jan 09
We got a little Hawaiian Theme in the Bathroom. Dolphin Shower curtain and Floor mats and Fish pictures on the Wall. Also a Grass Skirt and Some Hawaiian Shirts on the Wall. Weird Stuff, my Boyfriend was bored .

• United States
9 Jan 09
I agree. The bathroom is an important part of the house, and afterall, we're in there quite a bit, lol! I remember once I had a Tropical/Jungle theme in my bathroom. It turned out really cute with some wild plants, animal print shower curtains, a few animals here and there, a shelf with all kinds of Rain Forest items, and a couple pictures with Tigers on them. Doesn't sound to great, haha, but it really was cute. I got quite a few compliments. I guess you gotta trust me on this one, haha.

• United States
9 Jan 09
I really don't have any preferences for the bathroom really. I don't think it has to look nice, but then again it should be clean and organized. I just don't think pictures is something that it has to have. However, we do have some pictures in our bathroom but I didn't put them there, haha. They were put there because we had them and otherwise they were just taking up space.