Baby on Board!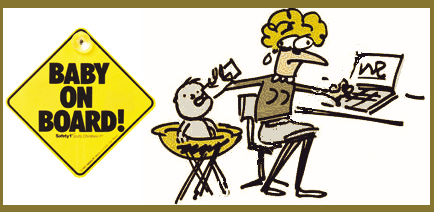 Philippines
January 12, 2009 6:40pm CST
Yep, I'm mylotting one-handed. The other arm is supporting my baby's head while he's sleeping on my lap. I have to work but I cannot put him down on the bed because he will cry. His nanny can't carry him too, he'll cry even harder. He only wants me. My poor baby have a fever and cold and it breaks my heart to see or hear him crying so I've been carrying him for 3 hours now. He likes my lap and my arm, he's sleeping soundly... Sigh, so this is motherhood!

Have you done this as well? Share your story:)
5 responses

• United States
13 Jan 09
Sorry your baby isn't well. But when they are under the weather thats when they need their mum the most. I've had my share of onehanded typing ;)

• Philippines
20 Jan 09
I bet you had

I bet, all work-at-home Moms have... yes, I love pampering my baby even if he isn't sick.. he's soooooooooo cute!


• Malaysia
13 Jan 09
I think this is really the great experience. Well, I am 8 month pregnant now, and I think I may need to do the same when my baby is born, or I will just carry my baby and watch him sleep, and stop all these computer activities.

Yeah, I think it's really sad to see your baby sick, also they do not like to take medicine, right? Hope he will get well soon.

• Philippines
20 Jan 09
Wow! Good luck on your pregnancy! I actually do both. I like attending to my baby's needs you know, he's sooooooo cute. But there are times I have to finish some work and deadlines can be so demanding, so I have to carry him while working! It's a good thing my baby somewhat like the taste of the medicine so there's no struggle there... Have a great day.

• New York, New York
13 Jan 09

• Philippines
19 Jan 09
He still have this stuffy nose, poor little darling, thanks for wishing him well howard


• Philippines
13 Jan 09
When I was on maternity leave, I'd do the same thing. Sometimes though, I am able to put the baby down while I used the computer or did my stuff. I miss those days. There will be a lot of things you will be able to do while having a baby in your arms. LOL!

Yes, motherhood is great, we become multitaskers.


• Philippines
19 Jan 09
Yeah, I dig that, I have been a multitasker ever since but this is something huh!

• Canada
25 Jan 09
I have not been overly active on myLot, because life has been crazy around here. I don't have kids, and I don't plan to. However, when you gave me a best response on the discussion about the mirror it prompted me to come back to your page. I'm glad to hear that your baby was born, and I hope all is going well.